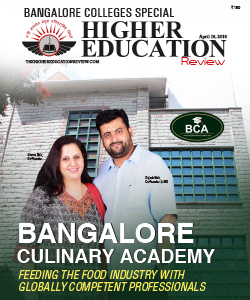 Top 20 Promising Education Institutes in Bangalore - 2018
Whether you are an inhabitant or an outsider, the aura of Bangalore city will never fail to make you feel like home. The city that was founded by Kempe Gowda I in 1537, evolved as the fourth-most populous city with a population of around 10.6 million people today. Although an unplanned city, Bangalore has earned several mantles like Garden City of India; Pensioner's Paradise; and "India's Silicon Valley" owing to its unprecedented growth in a short span of time. In 2017 Bangalore has been ranked the most dynamic city in the world, ahead of Silicon Valley and Boston in the US, in a study by independent property consultancy Jones Lang LaSalle (JLL). One of India's most progressive and cosmopolitan cities with a salubrious climate, Bangalore consists of smartest people from around the world classified into different religions and customs.

The adjustability level and the friendliness one will get here is beyond comparison. The city is packed with a force of youngsters who either moved to the city to study or for job purpose. Words will fall short to describe the reasons for settling down in this city, which boasts of excellent infrastructure, immense job opportunities, cosmopolitan culture, interesting people from a mix of backgrounds and exciting options for travel and leisure. Apart from all this, anyone who has been to Bangalore even once will vouch for the fact that the city has an undeniable academic air to it. According to an All India Survey on Higher Education, Bangalore district topped in terms of number of colleges that is approximately 924.

From design to law and engineering to medicine, the city has prestigious colleges for every subject. This is the reason why students from all over the world arrive in the city for an unparalleled educational experience. Bangalore as an academic nerve center of the country, Institutions here have excelled in the deliverance of high-quality education in various disciplines to enable students to be prepared for a highly competitive working environment after graduation.

But at the end of the day, what bewilders the students is selecting the best college among the many before investing their time, money and energy into the course. Taking this onus on us, we at Higher education Review have picked out the finest colleges and have featured as "Top 20 Promising Education Institutes in Bangalore-2018". Composed by our research team and expert panel, all the listed colleges have proved themselves as the best among their counterparts and are active promoters of the latest developments in education viz. research and experiential learning.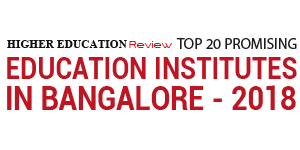 Nominate College/Institute
×
Nominate College/Institute
Our subscribers play a decisive role in finalization of our annual list of "Top 20 Promising Education Institutes in Bangalore - 2018" by nominating those which have served them with excellence and are praiseworthy. If you feel there is a College/Institute that deserves to be on our annual list, do write to us about them mentioning their value proposition.
Data not inserted