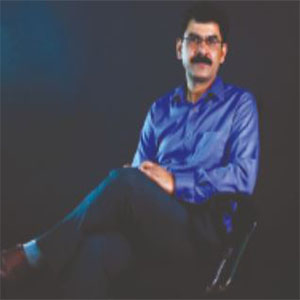 Sreedhar V. T.
Founder & CEO
When Wiztoonz Academy of Media and Design started its operations in JP Nagar, Bangalore, Sunil M - an office boy from a nearby building - was one of the regular visitors to the campus. Every day, he would come, meet one of the academic counselors to ask about the institute's design programs and would go back without giving any hint of taking admission. When this practice became a never-ending process, the counselors took Sunil to the cabin of Sreedhar V. T., the founder, and CEO of Wiztoonz. After a detailed discussion, Sreedhar understood that Sunil, despite being a gifted child with great hand drawing skills, was apprehensive about learning professional design, because, his monthly earning was not more than Rs. 2000. That meeting with Sreedhar, however, changed Sunil's life forever.
Sunil took up Diploma program and eventually started working in the graphic designing field. It did not take much time for Sunil being an expert in his chosen field. In the next three years, Sunil saw his salary soaring from Rs. 5000 to Rs. 50, 000. Now, Sunil is a successful entrepreneur, running his own game development company, and he is a regular recruiter of Wiztoonz. The story of Sunil - from being an office boy to running a successful venture - is one of the many that Wiztoonz has created in its short span of existence.
Sreedhar, an ardent art lover, says, "There are numerous creative youngsters in our nation who gets suppressed while accomplishing their parents' dreams of getting into more lucrative fields such as engineering and medicine. We, hence, provide an alternative career platform to students where they can work on their passion for creativity." Sreedhar has been instrumental in establishing Wiztoonz with a vision to create an efficient education ecosystem that prepares students for a remarkable and successful career in the Multimedia Industry.
Assuring the Best
Celebrating ten years of academic excellence, Wiztoonz