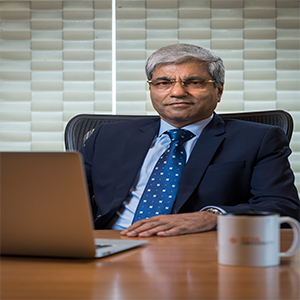 Dr. P. Shyama Raju
Founder & Hon'ble Chancellor
A Businessman, an Educationist and someone with a vested interest in trendsetting ideas, Dr. P. Shyama Raju is the Founder and Hon'ble Chancellor of REVA University. His idealistic mission as the Chancellor of the University is to see careers build and peddle dreams for those who are inclined and ambitious, through the educational caverns of REVA University.
Dr. S.Y. Kulkarni, Vice Chancellor
An M.Tech and Ph.D. holder from Indian Institute of Technology Mumbai, Dr. Kulkarni is presently is the Vice Chancellor of REVA University. He has an excellent blend of teaching and industrial experience. He has published about 68 technical papers in National and International conference and Journals. Education Council of India has identified him as one amongst 100 most influential Directors of the country.
Born out of a strong desire of fulfilling his late wife, Mrs. Rukmini Shyama Raju's dream of setting up state-of-the-art educational institutions, the excellence, and quality of REVA University is the manifestation of Dr. P. Shyama Raju's years of hard work, grit, and commitment. Mrs. Rukmini Shyama Raju had a firm belief that academics is the fore-runner of everything important in life and based on this philosophy, REVA University since its inception has been widely known among the student community for producing graduates with sound values and a passion for contributing to the society in a constructive manner. REVA University is run by the REVA Group of Educational Institutions, which was initiated under Ruk-mini Educational Charitable Trust. The trust is resolute to provide global standard education to the youth of the country along with giving them the right wings to fly high in their respective careers.
Dr. P. Shyama Raju shares, "The journey from being recognized as a College to being a University, par excellence has been challenging but fruitful for us. It was a moment of pride and awe for REVA when Government of Karnataka invited it to accord it with University status."