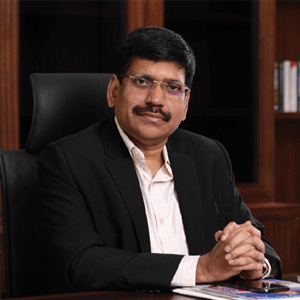 B.P.Padala
Founder and Chairman, Roots Collegium
Media and Mass communication education is gradually becoming one of the most preferred options for current students owing to its promising career opportunities and a gamut of thriving opportunities. Being a dynamic and versatile sector exposing the students to the new-age challenges, media and mass communication education is causing a noticeable stir in the Indian educational periphery. Arresting the attention of students to consider the journalism sector as a niche segment to build their career, Roots Collegium has emerged as a premium educational institution of the country ensuring top-notch media and mass communication curriculums.
The odyssey of Root's began in the year 1991 with a Vision of becoming an internationally acclaimed place of learning, nurturing entrepreneurship, individual thinking and enabling students to become change agents and leaders of innovation in the world's socio economic framework. The `3 I' philosophies of Root's which represent Individual, Institution and Industry provides a holistic learning experience to the students through creativity which acts as a catalyst to foster their growth and development.
Engaged in Continuous Enhancement of Knowledge and Skills
Very few institutions across India offer Media and Mass Communication courses and most of them have a syllabus that is purely theoretical with an indenting gap between classroom learning and the field. Roots has bridged this gap by designing the academic plan in a manner that brings industrial exposure and experience to the classroom like visiting TV/media houses and radio stations, internships in content writing, news broadcasting and so on. "Roots offers diploma courses in Photography, Film making and Advertising for the students pursuing Mass communication, along with BA in Psychology, Mass communication and English Modern Language.
The exposure to the industry makes our course more interactive and ensures hands-on experience to the students, making them more confident. Guest lectures are organized by inviting eminent media speakers and internships are offered to the students from second semester onwards. With a massive online