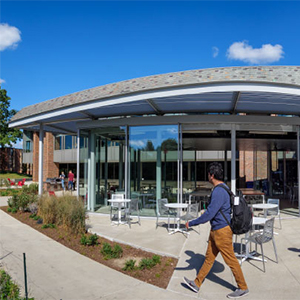 Jared Goulding
Associate Director For Graduate And International Admissions
STEM education isn't just about getting a degree, or even about getting a job. Today, STEM education is taking what you learn and applying it to what you're passionate about. Driven by this objective is Rose-Hulman Institute of Technology
(rose-hulman.edu)
an institute set up with a mission to provide students with the world's best undergraduate science, engineering, and mathematics education in an environment of individual attention and support. Founded by businessman Chauncey Rose in 1874, Rose-Hulman Institute of Technology (then Rose Polytechnic Institute) has thrived under the dedicated leaders whose vision has propelled the institute from its beginnings as a little-known, all-male engineering college to a world-class institution on the leading edge of engineering education in the United States.
Ranked as the No. 1 undergraduate engineering school in the U.S. for 21 consecutive years by U.S. News & World Report, Rose-Hulman has five academic departments also ranked No. 1 by the publication Chemical Engineering, Civil Engineering, Computer Engineering, Electrical Engineering, and Mechanical Engineering while their Biomedical Engineering is ranked No. 2. The school also offers majors in Environmental Engineering, Computer Engineering, Computer Science and Software Engineering, Engineering Management, Mathematics, Biology, Chemistry, Biochemistry, Data Science, Engineering Design, Physics and Optical Engineering, and has a strong curriculum in the Humanities, Social Sciences and Arts. "Our unique combination of academic excellence, invaluable hands-on experience, one-to-one mentoring, classes taught by world-class faculty, and access to advanced labs and equipment is why U.S.News and World Report, Fisk Guide, Princeton Review and other publications consistently rank Rose-Hulman among the top undergraduate engineering colleges in the United States", speaks Jared Goulding, Associate Director for Graduate and International Admissions, Rose-Hulman Institute of Technology.
Today, the students of Rose-Hulman Institute of Technology have access to labs, state-of-the-art equipment, and hands-on projects starting from their first year which students at most other schools don't experience until later in their undergraduate or even graduate studies. Rose-Hulman has two innovation centres the Branam and Kremer Innovation Centres that offer 30,000 square feet of innovation and maker space where student competition teams can huddle ahead of intense competitions, clubs can unveil new innovations, and individual students tweak their latest projects. The spaces are alive with activity, with wide-open workspaces where students collaborate across majors and bring their ideas to life.
Opening New Windows of Opportunities for International Students
Rose-Hulman welcomes students from around the world. The presence of international students on its campus has helped them realize the breadth and depth of differences in the world. Through interaction with different people, not only does the school learn about different ways of living, but they also learn more about themselves. The International students are offered support services which include English as a Second Language instruction (ESL), an International