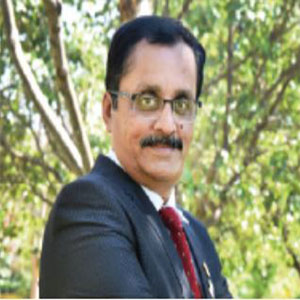 Dr. B. Ramesh, Principal
Having 28 years teaching experience at Degree, PG, and Diploma level and specialized in Pharma Chemistry, Dr. B. Ramesh is a passionate and caring administrator. Principal at SACCP, Dr. Ramesh is also a Registered Pharmacist and have published 20 research papers in peer-reviewed journals of International repute. He was instrumental in establishing Department of Clinical Pharmacy Services at Sri Adichunchanagiri Hospital and Research Center, B.G. Nagara.
A recipient of Padma Bhushan award, Sri Sri Balagangadharanatha Mahaswamiji was the 71st pontiff of the Adichunchangiri Dharma Peetha, who worked tirelessly during his lifetime to realize his vision of revolutionizing the society through Spiritual, Educational, Social, Cultural activities of the Math. In the year 1973, to give a shape to his goals of educational upliftment in the country, his Holiness Late Sri Sri Swamiji formed the Sri Adichunchanagiri Shikshana Trust. Today, supported by this trust, there exist over 450 institutions holding the responsibility to serve the humanity through rendering a quality education, which can meet the intellectual, spiritual and physical needs of students. Commenced in 1981, under the umbrella of this Trust, Sri Adichunchanagiri College of Pharmacy (SACCP), which earned an ISO 9001-2015 certificate for its quality management system, has evolved into a popular destination among pharmacy students.
Became one of the constituent colleges of Adichunchanagiri University in 2018, the institute offers an array of courses viz. D.Pharm, B.Pharm, M.Pharm, Pharm-D, Post Baccalaureate and Ph.D. courses.