development of students. It not only conducts various co-curricular events at college to identify the hidden talents but also encourages students to participate in Inter-collegiate, District, State & National Level Cultural & Literary competitions. VET First Grade College organizes Inter Collegiate Tennis Ball Cricket Tournament- V.E.T Premier League every year since 2010 at VET College ground, where students from various colleges participate in large number in this event". Faccio and Culrav are the inter college fashion fest and Cultural exhibition platform across Bangalore as annual event at VET.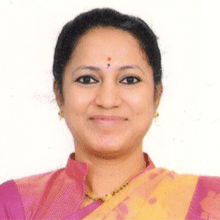 Dr. R. Parvathi, Academic Director & Principal, Vasavi Educational Trust
Infosys, Accenture, Shopper Stop, Kisaan Direct, Flipkart, HGS, TCS, Capgemini, Bayars Coffee, Axis Bank, HDFC Bank Cars 24, Northern operating Private Limited, Rolls-Royce, Sreshta Natural Bio-Products Private Limited, Scotts are some of the companies in which their students are placed from last year batch. All this acts as a testament that showcases the quality of the education they provide.
Milestones over the years
a) Accredited with NAAC with 2 cycles with B in the 1st cycle and B+ in the second cycle indicating progress in quality parameters.
b) Introduced courses B.Sc-FAD, BCA, BBA and M. Com in span of ten years and awaiting for approval of 3 new Under-Graduation courses in the upcoming year.
c) Awarded as 19th in higher education Top 20 promising educational institutions in Bangalore
d) Bagged many Universities ranks and gold medals in Bangalore University and Bangalore City University
e) Remarkable improvement in ad-missions over the years.
f) The institution has a rich research culture among students and faculty comprising of publications in ISBN, ISSN, UGC Care Listed Journals and Scopus indexed journals.
B R Viswanath setty, President, Vasavi Educational Trust
B R Viswanath Setty, President and Dr. Manandi N Suresh, Hon. Secretary of Vasavi Educational Trust who are educationalists and Dr. R. Parvathi- academician are pioneering educators who are committed to mobilize intellectual, human and financial resources to realize their promised dreams, to achieve academic excellence and contribute for the benefit of humanity.