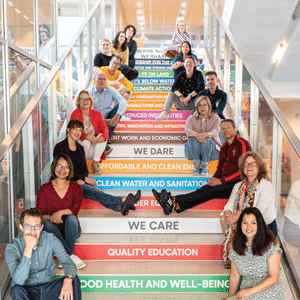 From Stevin, Snel, and Huygens in the 17th century to Lorentz, Kammerlingh Onnes, Buys Ballot, De Vries, de Sitter, and Oort in the 19th and 20th, the Netherlands has produced a distinguished array of eminent mathematicians, scientists, and medical researchers, including sixteen Nobel-prize winners and other internationally recognized figures. Students at Dutch universities are consistently pushed to challenge the status quo and think outside the box in their pursuit of knowledge.
The majority of today's international students interested in pursuing careers in scientific research, discovery, and innovation choose to study in the Netherlands. In the field of applied sciences, Windesheim Honours College is consistently ranked among the best three institutions in the Netherlands. Windesheim is well-known for its one-on-one teaching style, small class sizes, and collaborative spirit with the private, public, and NGO sectors.
In 2009, Windesheim Honours College was estab-lished as a game-changing endeavour in the Nether-lands' academic landscape as it was the first College for students who are both doers and thinkers hence combining academic and professional education in an unprecedented way. Windesheim Honours College, part of the Windesheim University of Applied Sciences, provides honours education; it is a full-time, four-year BBA degree programme that trains students to become excellent international project and change managers.
Working Towards Sustainable Development Goals
The four-year BBA programme in Global Project and Change Management focuses on achieving Sustainable Development Goals. Students are given the SDGs as a framework and are encouraged to develop their own missions based on the areas in which they are most interested in making contributions