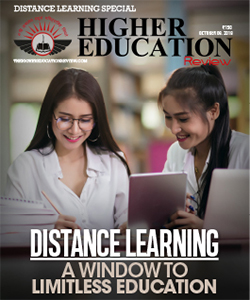 Top 10 Most Promising Distance Learning Institutes ­ 2019
The transformation that is taking place in the education industry is making education easily accessible. One major element that is con-tributing accordingly to these ever-changing stages of education is Distance Learning. The distance education system is growing at a pace in India because, today's generation, is more inclined towards the concept of being more creative, innovative and productive. The present population of the country believes that attending physical classes for six to eight hours every day is waste of time, getting a degree from any part of the country or world without attending any classroom lectures is turning as a new form of getting higher education.

Gradually, the number of universities and colleges that are offering distance learning courses to the students across India is increasing at a high speed. Every year millions of students are enrolling for distance learning in various colleges and universities across the countries. This form of education is helping the students in excelling their education beside their profession, students or employees are able to add strong educational values to their profile along with the job. The degrees and certifications provided by distance learning universities and colleges are considered equivalent to conventional degrees offered by full-time colleges. Today, class room learning is being considered as an old school learning pattern, the education system has transformed learning beyond the walls of a classroom.

Considering the flexibility and convenience that distance learning offers, today, more and more learners are opting to achieve their educational goals by enrolling in prestigious distance learning centers. In fact, top-notch companies are suggesting their employees to keep on re-skilling themselves via pursuing a course on distance education mode, which along with giving them the facility to completing the course according to their own pace, also lets them get a highly accepted degree with-out having to compromise with their respective jobs. We at Higher Education Review, recognizing a handful of distance learning institutes, that are contributing exceptionally to Indian education landscape, have come up with the 'Top 10 Most Promising Distance Learning Institutes ­ 2019'. The listing has been developed by our team of expert panel and researchers after contemplating deeply on the quality of content, the value of certification and support services that are been provided by the featured distance learning institutes.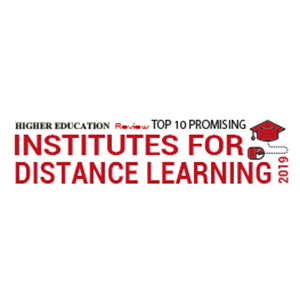 Nominate College/Institute
×
Nominate College/Institute
Our subscribers play a decisive role in finalization of our annual list of "Top 10 Most Promising Distance Learning Institutes ­ 2019" by nominating those which have served them with excellence and are praiseworthy. If you feel there is a College/Institute that deserves to be on our annual list, do write to us about them mentioning their value proposition.
Data not inserted