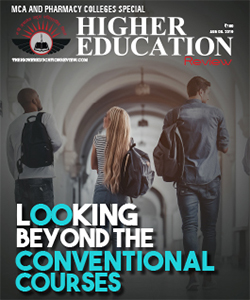 Top 10 Promising MCA Colleges in India - 2019
It is not necessary to study computer engineering to learn coding in different languages, data communications and networking, web technologies, software engineering, operating systems, computer graphics and various other related subjects. With recent technological developments like facial recognition, artificial neural networks, general data protection, artificial intelligence-enabled chips for better performing CPUs, and companies spending on cloud technology to become hyper-scale cloud leaders, doing MCA will only increase a student's chance to work with these technologies. The boom of these rapid developments in the field of computer application truly speaks in favor of master of computer application course. Along with the above stated developments where students can work after completing post-graduation in MCA, an MCA course emphasizes on imparting knowledge about latest programming languages and tools and makes a student ready in various aspects of computational theory, programming, algorithm design and optimization, network and database management, mobile technologies, electronics, mathematics, probabilities and statistics. Today, there are many colleges that are providing indigenous MCA courses keeping the focus on theoretical knowledge development of the students while incorporating sound practical learning. They are producing some of the finest trained professionals that are proficiently meeting all the industrial demands. To make the readers of The Higher Education Review familiarize with some of the top MCA colleges, and to give insights about the technological advancements in computer applications, our experts and researchers present to you a list of 'Top 10 Promising MCA Colleges in  India ­ 2019'. The colleges are selected after critical exploration by a panel of immensely qualified academicians along with the editorial team.

Nominate College/Institute
×
Nominate College/Institute
Our subscribers play a decisive role in finalization of our annual list of "Top 10 Promising MCA Colleges in India - 2019" by nominating those which have served them with excellence and are praiseworthy. If you feel there is a College/Institute that deserves to be on our annual list, do write to us about them mentioning their value proposition.
Data not inserted