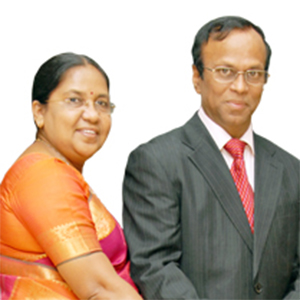 The Missile Man of India and the former President of the country, Late. Dr. A. P. J. Abdul Kalam said, "Learning gives creativity. Creativity leads to thinking. Thinking provides knowledge. Knowledge makes you great". Following the great man's thought, Francis Xavier Engineering College (FXEC) is imbibing creativity among Indian students by providing technical education on par with international standards since 2000. The college, an offshoot of SCAD ­ Social Change and Development is located at the heart of the city of Tirunelveli in Tamil Nadu and is providing yeomen service in systematically transforming the enrolled youth of this region into future-ready Engineering Professionals.
The Powerful Journey with a Powerful Vision
FXEC, under the leadership of its Founders Dr. S. Cletus Babu and Dr. Amali Cletus Babu has been creating new frontiers in the field of engineering education with the vision "To provide education in Engineering with excellence and ethics and to reach the unreached." and with a Mission "To create innovative and vibrant young leaders and entrepreneurs in Engineering and Technology for building India as a super knowledge power and blossom into a University of excellence recognized globally." It is located at the heart of the city of Tirunelveli, heralded worldwide as the Oxford of South India. The College is accredited by National Board of Accreditation (Washington Accord) and has acquired 2 (F) and 12 (B) status by UGC. It is affiliated to Anna University and approved by AICTE.
Francis Xavier Engineering College follows a high-end teaching practice to make its students understand the nuances of engineering and technology and master the skills with a high degree of discipline and order. The college provides state-of-the-