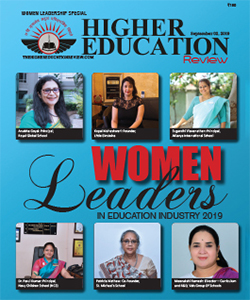 Top 20 Women Leaders in Education Industry ­ 2019
Indian women are compassionately contributing to the country's progress in every possible field. Be it education, sports, business, public administrative positions or any other, women in India have made their way in them and achieved stunning results. Talking of sports, recently Hima Das, a girl from Nagaon, Assam stole the limelight by winning a total of five gold medals in Poznan Athletics Grand Prix and Kutno Athletics Meet in Po-land, Kladno Athletics Meet, Tabor Athletics Meet and Nove Mes-to in the Czech Republic. In education, personalities like Roshni Mukherjee gave up her high paying IT job to establish India's one of the largest free education platforms `Exam Fear' and take Indian education to another successful level. Pouring her blessings to less privileged Indian children, Geeta Dharmarajan, a teacher, children's book writer and a Padma Shri Awardee has established `Katha' 28 years back, and since then is providing reading options to children, especially with reading challenges. Like them, there are many leaders in the top echelons of the educational sphere that are extremely dedicated to improving the education structure. Some of them are taking care of all hard works by themselves, while some are inspiring others by their thoughtful leadership. While leadership in education is one of the toughest jobs that requires dedication, determination and imaginative perceptions, these women leaders are surely doing some extraordinary work and helping `Beti Bachao Beti Padhao' scheme to achieve distinct recognition. While sharing their secret mantras of success, few women lead-ers who are recognized and honored in their respective fields tell us about their struggles and how they fought their way to reach in such an overwhelming position. In order to let the readers of The Higher Education Review know these stories, we present you a list of 'Top 20 Women Leaders in Education Industry ­ 2019'. In this edition, you will read about the unheard stories that will definitely motivate you and help you in your education and life journey.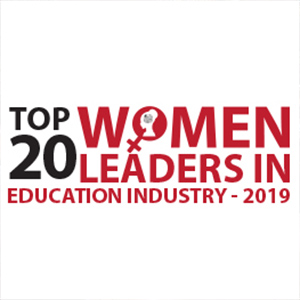 Nominate College/Institute
×
Nominate College/Institute
Our subscribers play a decisive role in finalization of our annual list of "Top 20 Women Leaders in Education Industry ­ 2019" by nominating those which have served them with excellence and are praiseworthy. If you feel there is a College/Institute that deserves to be on our annual list, do write to us about them mentioning their value proposition.
Data not inserted