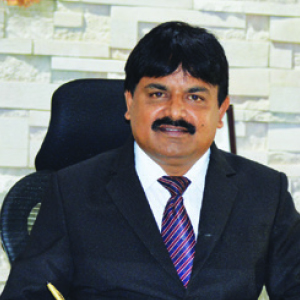 Dr. M.B. Anandaraju,
Director- Corporate Affairs, HR & Training
With a view to propagate education, re- search and service to humanity at large, Sri Adhichunchunagiri Shikshana Trust runs 485 institutions, which are located throughout the states of Karnataka and Tamil Nadu, having strength of more than 10 million students. Following the 'Guru-Shishya' Parampara is his holiness Byravaikya Jagadgu- ru Sri Sri Sri Dr. Balagangadharanatha Maha Swamiji, 71st in the holy lineage and the founder president of the Trust. With the divine blessings of His Holy soul the vision and wishes of 71st Guruji's is fulfilling by the 72nd pontiff of the math Jagaduguru Sri Sri Sri Dr. Nirmalanandanatha Maha Swami- ji, President, Sri Adichunchanagiri Shikshana Trust.
One of the major educational bodies under the trust is BGS Group of Technical Institutions (BGS -GTI), which comprises of three engineering colleges including Adichun- chanagiri Institute of Technology, Chikmagalur - established in 1980, SJC Institute of Technology, Chikballapur - es- tablished in 1986 and BGS Institute of Technology, Bellur Cross - established in 2005. Dr. C.K Subbaraya (Principal, Adichunchanagiri Institute of Technology), Dr. Ravikumar K M (Principal - SJC Institute of Technology) and Dr. B K Narendra (Principal BGS Institute of Technology) head the institutes. With an intention to provide career-orient- ed training, the BGS - GTI has established Department of Human Resource Development, which is managed by Dr. M.B. Anandaraju and his team, in- dulges in training students right from the first semester to make them indus- try ready. BGSGTI is one of the very few colleges in the state of Karnataka where the concept of HRD has been implemented successfully.