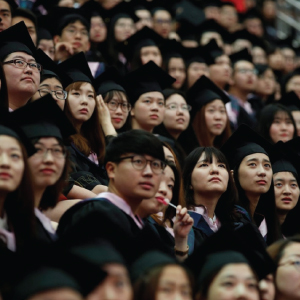 Dalian's Unique Approach to Education
Stringently operating under the DOU administration are eighteen schools and two education departments. The university has four key disciplines at the provincial and ministerial level, one provincial highlevel key discipline, fisheries and two provincial characteristics sub-disciplines, hydrobiology/animal genetics and breeding/reproduction. There is one provincial philosophy/social science key discipline offered by this university. Overall, there are 11 disciplines and 30 sub-disciplines that are recognized master's degrees. Furthermore, DOU has 47 undergraduate programs and 32 senior diploma programs. These programs have one state-level innovational experimental program for the practical skills development of the students. Also, there are seven provincial-level key laboratories, four provincial-level engineering and technology research centers, two provinciallevel technology service
centers and four provincial-level key laboratories schools working under DOU.

The university has over 15,000 students' population, more than 800 full-time faculty members that include 114 professors and 279 associate professors. With these staggering numbers, DOU has been an active educational reformer with state and provincial level educational reform projects in its horizon. It has completed projects on topics like 'Giving Full Scope to The Multidisciplinary Advantages to Build a Characteristic Fresh Water Fisheries Teaching System' that came first in National Awards for Achievements in the Teaching Profession. Another project, 'The Research and Practice on The Reform of Teaching Content, Teaching System and Practical Skills Training Mode in Aquiculture (undergraduate)' was the recipient of the same award. DOU has always been an intensifier of teaching quality, classroom activities, science and culture, extracurricular activities to enhance students' comprehensive qualities. This has resulted in the formation of students with high moral values and inflexible ambitions. In turn, the students have brought glory to the university campus by winning over 800 provincial awards in various academic competitions from 2005 onwards.

" Preserving China's learning culture, DOU has shaped its most striking feature which is 'inherit the spirit of water and persevere in oceans to incubate hardworking, specializing, devoting and creating talents' "

Promoting Education Welfare Programs

DOU promotes 'Like Oceans, Delve Deep Into Knowledge; Like The Earth, Commit More To The Society' as the university motto with the traditional tagline – 'God Rewards Strenuous More, Ocean Embraces Streams All'. It embraces the teaching model by advocating 'Morality, Erudition, Literacy, Paragon'. Midst of upholding this holistic culture, DOU has completed 815 scientific research projects that include 97 projects at the state level and 288 at the provincial and ministerial levels. In this, there are 33 projects that received at least municipal level awards with 4 state awards and 22 provincial/ministerial awards. Projects like 'Research And Application On Clean And Effective Breeding Technology In Seawater Ponds' won second prize in the 2012 National
Science and Technology Progress Awards, 'Genetic Breeding And Seeds Production Of The Scallop Chlamys farreri' and 'The Key Processing Techniques For The Series Products Of Kelp Utilization' both won first prizes in Liaoning Province Science and Technology Progress Awards for the years 2005 and 2008.

Meanwhile staging the education paradigm with delightful colors, in 1995 DOU established International Exchange Office with the prime focus on international dynamics for establishing multi-faceted contacts with the outside world. From then DOU has partnered with Tokyo Ocean University, Kagoshima University, Hokkaido University, Nagasaki University, Korea Ocean University, Busan University, Russian Far Eastern National Fisheries Technical University, George Fox University, Dixie University, Peding University, National University of Iceland, University of Tasmania in Australia, South Australian Fisheries Research Institute, Taiwan Ocean University, China University and many more. These partnerships foster academic exchanges and teacher training programs, insert international impact and reputation in DOU's long list of treasuring success.

Other than aquaculture and marine science, DOU imparts quality education in the disciplines of Civil Engineering, Environment Engineering, Navigation and Naval Architecture, Foreign Languages, Humanities and Law, Marxism, International Education, Physical Education and Sports, Food Sciences and Engineering, Information Science and Engineering, Mechanical and Power Engineering, Economics and Management, Arts and Media, General Science and Computing Technology. DOU has Continuing Education programs for students who left education and want to rejoin. Preserving China's learning culture, DOU has shaped its most striking feature which is 'inherit the spirit of water and persevere in oceans to incubate hardworking, specializing, devoting and creating talents'. Entrusting the holy spirits, DOU is engaged in turning unpolished talented students into invincible and unselfish achievers. The university is wholeheartedly dedicated to actualizing the dreams of many students by penning scrupulous pedagogy. In a frustrating, chaotic and confusing industry scenario, DOU has been the opaque learning center for decades and for decades to come.