Top 10 Universities and Colleges in China for Indian Students - 2020
Over the past couple of decades, Asian countries have been staking their claim for supremacy in the global higher educationdomain. By integrating age-old proven teaching methods with innovative modern-day technologies, Asian higher education destinations are offering its students the best of both worlds. China has been leading the Asian higher education sector for many years now owing to the quality and reputation of Chinese universities and colleges. By focusing on offering research-intensive higher education to their students, Chinese educational institutions have been able to attract a wider audience not just in Asia but also from other western countries. According to a survey conducted in 2016, China was the third-largest receiver of international students with 4,42,773 international students studying in Chinese universities and colleges. In just two years, the international student population in China has increased to 4,92,185 showcasing the increasing demand for Chinese higher education among international students. The importance given by Chinese educational institutions on practical education and industry exposure has worked in favour of China in not only creating impeccable academic record but also in attracting more and more international students year after year.

In order to help the Indian students who are looking for a premier higher education institute in China, we at Higher Education Review magazine are trying to simplify your confusion of selecting the best Chinese universities and colleges for Indian students. Our expert panel of researchers has looked into the situation and articulated a list under the name 'Top10 Universities and Colleges in China for Indian Students – 2020' which is based on the institutes' qualities, expertise, ranks, facilities and much more. Reviewed and scrutinized by the intellectual individuals of this specific field, the educational institutes mentioned in this list deliver exceptional education along with outstanding infrastructure, top-notch mentoring facilities, and placement opportunities. We hope that this above-mentioned list will help the interested Indian students to choose the best educational institutes in China.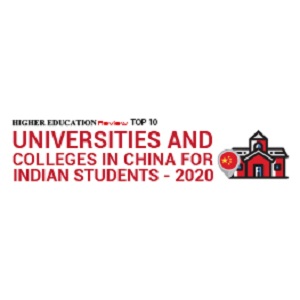 Nominate College/Institute
×
Nominate College/Institute
Our subscribers play a decisive role in finalization of our annual list of "Top 10 Universities and Colleges in China for Indian Students - 2020" by nominating those which have served them with excellence and are praiseworthy. If you feel there is a College/Institute that deserves to be on our annual list, do write to us about them mentioning their value proposition.
Data not inserted