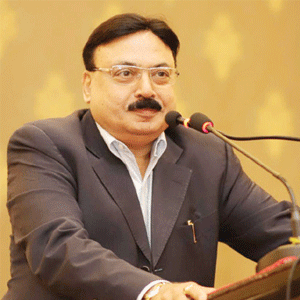 With a vision to be a leader in professional education, research and development, the undergraduate campus of Prestige Institute of Management and Research, Indore is standing elevated with excellence and carrying forward the rich legacy of the Prestige Education Foundation in multiple folds. The institute is a brainchild of Padma Shri awardee Dr. N.N.Jain, an entrepreneur, industrialist and philanthropist. After the successful completion of his professional journey Dr. N.N. Jain took a call to pursue his dream as an entrepreneur.
In the 44 year long journey Dr Jain invested himself to the cause of education since he strongly believed that his success and growth were only possible because of education. Carrying the vision of Dr. N.N. Jain to new heights, Dr. Davish Jain, Chairman, Prestige Education Foundation and Chancellor, Prestige University and Dipin Jain, Vice Chairman, Prestige Education Foundation and Pro Chancellor, Prestige University, are now spearheading this intellectual entity by following the footprints, vision of their father and imbibing his learning.
Operating for the greater good of the students
Adding more about Prestige Institute, Dr Harshvardhan Halve who is the Director In-charge of UG at the institute, says, "The journey of our undergraduate campus has come a long way from the era of being the first institute which launched the BBA program in India to the present day's most promising and vivacious learning hub that has mentored and skilled many young minds. The institute has been accredited thrice by NAAC and in 2021 with the highest grade A ++.
It has also been enlisted in several higher education rankings done by esteemed media houses such as India Today 24th Ranking in BBA Colleges, Times B ­ School Survey ­ 5th Ranking in BBA Colleges, Business Today 2020, 68 Overall Ranking 46 (Top 100: Private B-School), 68 (Learning Experience), 79 (Placement Performance), 54 (Selection Process) 66 (Future Orientation)