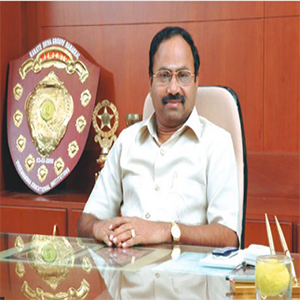 Dr. M. Karunanithi is a well-known educationist, philanthropist, chemist, and industrialist. For his contributions to women empowerment, he has been conferred with the honor "Vidhya Rathna" in 2007 by the world Friendship Council in the United Arabic Emirates. He has earned numerous such accolades in his lifetime, including being awarded D.Litt, by the Tamil University in 2008, for his outstanding service rendered to women's education.
Around 6 km away from Tiruchengode, a Block in Namakkal District of Tamil Nadu State, Elayampalayam village was no different from those uncountable numbers of Indian villages - noticeably falling behind in the race of development in terms of education and empowerment. With the aim of changing the educational scenario of that entire region, the visionary educationist and philanthropist Dr. M. Karunanithi in 1995 embarked unto the journey of commencing Vivekanandha College of Arts and Sciences for Women (VICAS), focusing on the upliftment of the socio-economic status of girls in rural area through providing them the invaluable gift of quality education. An autonomous and ISO Certified Institute, VICAS has been re-accredited with "A" Grade by NAAC considering its positive contribution to the country's women education.
Dr. M. Karunanithi proudly says, "Two decades ago, this western region, where our college is located, was a backward area. Tertiary education was unreachable. Today, we boast on churning out around 3000 graduates every year, who are instilled with the most demandable skills of the present day." Established firmly on Dr. M. Karunanithi's belief that only proper collegiate education can adorn the girls with dignity and self-worth, the institute offers a wide range of courses – over 63 - including UG, PG, M.Phil and Ph.D. programs.