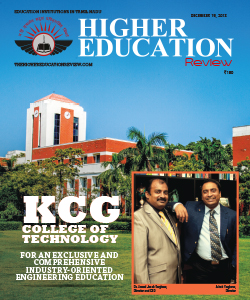 Top 20 Promising Educational Institutions in Tamil Nadu
Be it music or sports, be it infrastructure or agriculture, be it tradition or education- the southernmost part of Republic of India, Tamil Nadu has maintained its standard over a very long period. Tamil Nadu is the birth state of great mathematician Srinivasa Ramanujan and 11th President of India, Dr A.P.J. Abdul Kalam. It is the land where second President of India, Dr. Sarvepalli Radhakrishnan and Nobel laureate Sir C.V. Raman were born. Because of personalities like them and many alike, the rich infinite education jar of Tamil Nadu is remembered every time. Also, the beautifully carved temples show the detailed craftsmanship skills of people of Tamil Nadu and the trilogy of 'Swami and Friends' by R.K. Narayan evokes the literary wisdom. The state is not only bounded to arts, literature or classical science, through its finely crafted education system, Tamil Nadu has evolved as an industry giant of India. One of the most prestigious technical institution, Indian Institute of Technology Madras (IITM) ranks fourth in the list of the top IITs in India.

The focus of the Tamil Nadu administration has always been towards a balanced and high quality technological, arts and science education. It also gives importance to the demands of the socially and economically backward communities. The unmatched technical education in Tamil Nadu has produced great results all over India as many have went on becoming successful entrepreneurs. Since 1997-98, the state grants admission to students in engineering purely on merit basis, which has been appreciated all over. Tamil Nadu always got appreciation for its contribution in the branches of literature, science and mathematics. However, in the recent past and at present, the country is facing a dearth of talents in these fields. So, some special initiatives are being taken by the higher educational authority to revamp and reconstruct the curriculum of science and arts.

The higher education system in Tamil Nadu, when compared to others is regarded as one of best talent and skill creators in the country. Appreciating the endless efforts of the higher education system in Tamil Nadu and highlighting some of the promising educational institution in the state, in this edition, we at The Higher Education Review present to you "Top 20 Promising Educational Institutions in Tamil Nadu". The institutions that feature in this issue are chosen after thorough research by our team of expert panel. We hope our efforts end your search for the right institution and guide you to some wonderful learning days.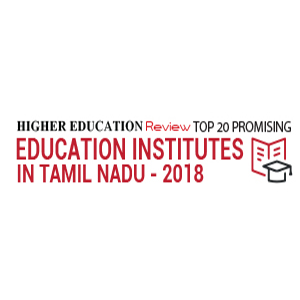 Nominate College/Institute
×
Nominate College/Institute
Our subscribers play a decisive role in finalization of our annual list of "Top 20 Promising Educational Institutions in Tamil Nadu" by nominating those which have served them with excellence and are praiseworthy. If you feel there is a College/Institute that deserves to be on our annual list, do write to us about them mentioning their value proposition.
Data not inserted