Higher Education Review ›› Magazine ›› December-2017 ›› Special issue
Medical Education: Sri Balaji Vidyapeeth
Author : HER Team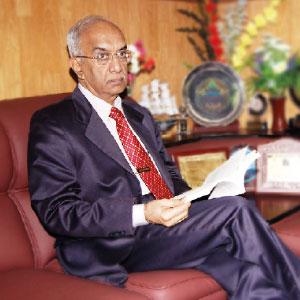 Prof. K.R. Sethuraman, Vice-Chancellor Sri Balaji Vidyapeeth
With the objective of embarking on a qualitative and quantitative revolution in medical education and research through evolution and also with the urgent prerequisite in the foreground, aimed at creating a force of competent healthcare professionals, Sri Balaji Vidyapeeth (SBV) was established. Sri Balaji Vidyapeeth was conferred the status of Deemed to be University status with effect from 4 August 2008. Presently, the deemed university comprises of four institutions or constituent colleges viz. Mahatma Gandhi Medical College and Research Institute (MGMCRI), Shri Sathya Sai Medical College and Research Institute (SSSMCRI), Indira Gandhi Institute of Dental Sciences (IGIDS) and Kasturba Gandhi Nursing College (KGNC).
Till date, SBV has received Rs. 5 crores funding from External agencies and the trust has spent nearly Rs. 2 crores in propagating research in the form of seed money, research and travel grants
Situated amidst a serene and lush green environment in rural Pondichery, the deemed university welcomes 900 students annually, covering courses under the regulatory agencies governing medical, dental and nursing education. "The courses offered to the students range from undergraduate to doctoral levels, including those courses under faculty of Allied Health Sciences, which runs several innovative and job oriented courses. We strive to present a variety of medical (health professional) courses to the students, where they are open to decide upon specialization, according to their respective interests," opines Prof. K.R. Sethuraman, Vice-Chancellor, Sri Balaji Vidyapeeth.
SBV in its decennial year has achieved several laurels and appreciation from its peer educational establishments and other organizations for delivering high-quality instruction. Besides this, The National Institutional Ranking Framework (NIRF) has ranked SBV amongst the Top 100 Universities in the country for two consecutive years of ranking, viz. 2016 and 2017 and was accredited with Grade "A" by National Assessment and Accreditation Council (NAAC), based on the NAAC peer committee review held during November 2015.
Research as the Priority
Promoting research activities in the realms of medical education framework, the deemed university focuses primarily on two areas of research viz. research in the frontiers and advancing fields of medicine and emerging areas related to complementary and alternative systems of medicine in India.