Top 10 Institutes For Business Analytics Programme - 2020
Today, every data matters as we live in an age of big data -and businesses need ways to go through it, to figure out which combinations of data count - and which ones do not. From healthcare to finance and telecom to machine learning, every single industry deals with mammoth of data, and this is where the data professionals come into the scene. While the organizations are collecting data from various resources available, most of them face an acute shortage of workforce who can use data effectively to generate meaningful business insights. Recruiting and retaining excellent business analysts have become a major challenge among senior leadership across all sectors. A recent study on this sector puts India as the second biggest analytics jobs hub after the US with nearly 90, 000 vacancies. High demand means higher salaries and a variety of options. Amidst the growing number of institutes that are offering analytics courses, it often gets overwhelming as to which is the right one for you. Responding to such queries, we at Higher Education Review have formulated a list comprising of institutes which not only renders a productive learning experience but also have designed the curriculum and class schedule as per the convenience of both working professionals and students. Titled as "Top 10 Institutes for Business Analytics Programme ­ 2020", the list has been brought to you by our expert panel and researchers, with a humble intention of simplifying your struggle while haunting for an apt analytics institute.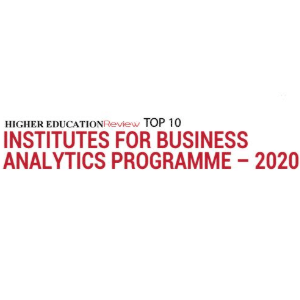 Nominate College/Institute
×
Nominate College/Institute
Our subscribers play a decisive role in finalization of our annual list of "Top 10 Institutes For Business Analytics Programme - 2020" by nominating those which have served them with excellence and are praiseworthy. If you feel there is a College/Institute that deserves to be on our annual list, do write to us about them mentioning their value proposition.
Data not inserted