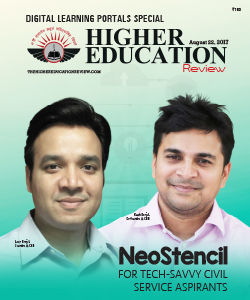 Top 10 Promising Digital Learning Portals in India 2017
The onset of Digital India has remarkably triggered substantial changes in how we access, consume and share content. In the present times, even for the completion of simple tasks, we are dependent on technology. Gone are days when student had to carry bulky text books and reams and reams of photocopied handouts to their colleges and universities. The digital revolution and Smartphone boom have given birth to the term 'Digital learning', where learning is pursued completely with the help of technology. Digital learning opened up the scope and possibilities for education and training and enhanced the learning experience. As a result, with basically an internet connection, a computer or a Smartphone, the learner can get access to different courses. In this regards, higher education and training are sectors, which have the potential to witness an exceptional revolution in the way they were perceived earlier.
It is estimated that E-learning market in India is more than 3 billion at present. Moreover, according to a report by Global Market Insights, the global e-learning market was valued at over USD 165 million in 2015 and is expected to grow at over 5 percent from 2016 to 2023, exceeding USD 240 million. This statistics clearly indicates the growth this sector experiencing and accordingly this trend is expected to continue. However, technology in the education system does not only mean learning online. It has in fact, allowed the ease to pursue relevant short-term certified courses offered by the digital learning portals. Considering the benefits of this new mode of imparting education, a number of institutes have come up to offer online certificate courses, making education more accessible and more affordable. 
In the midst of plethora of institutes offering online certificate courses, it often becomes tough for the learners to choose the right kind of institute, where they can achieve and meet their needs. Therefore, we at Higher Education Review magazine have prepared a list of 'Top 10 promising Digital Learning Portals in India 2017' after intense research and keeping in mind each and every aspect the learner would be looking for. The selection of the institutes has been executed on the basis of the quality and excellence of the concerned institutes.


Nominate College/Institute
×
Nominate College/Institute
Our subscribers play a decisive role in finalization of our annual list of "Top 10 Promising Digital Learning Portals in India 2017" by nominating those which have served them with excellence and are praiseworthy. If you feel there is a College/Institute that deserves to be on our annual list, do write to us about them mentioning their value proposition.
Data not inserted