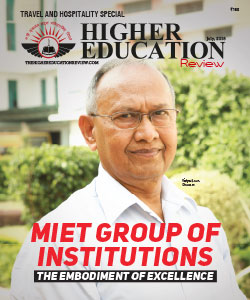 Top 10 Promising Travel and Hospitality Institutes in India 2018
According to latest reports, the travel and hospitality industry sector in India accounted for 8 percent of the total employment opportunities generated in the country in 2017, providing employment to around 41.6 million people during the same year. Moreover, it is expected that by 2025, 10.5 percent of all jobs worldwide will be in hospitality and tourism and it's expected to contribute a gargantuan $11.3 trillion to the world economy in GDP. Apart from this convincing figures, there are many other perks of working in this industry, including a great deal of freedom and mobility, rare opportunity to meet, service, and interact with people from all walks and corners of life, promising salary range and many more.

Due to the tremendous growth and the ever-evolving nature of the industry, the student community is gearing up to pursue a degree or diploma related to this industry for giving a kick-start to their careers. Whether it is Gordon Ramsay, starred British chef or country's own celebrity chef, Vikas Khanna, who is renowned in international platforms as well, they all achieved popularity starting out in this industry; anyhow the only thing that is common among them is their passion. This depicts scopes and opportunities are countless, but it is the unique skill set in candidates that makes the difference assuring their proficiencies are globally recognized and applicable to any business, in any corner of the planet considering the fact that hospitality centers around providing a fantastic customer experience.

With the increasing interest of students in this field, institutes in parallel are also vouching to render education and training. Choosing an institute for earning a degree in this field, is, however, a difficult process as compared to other courses, travel, and hospitality management courses demand optimum practical training and exposure which most of the institute fails to offer. We at Higher Education Review for demonstrating the students a right direction towards the fulfillment of their dreams have identified distinct institutes who are resolute to train the students with the best of both worlds exposures, facilities, quality education, and approaches.

In the next few pages, we have unveiled the few institutes that are shortlisted by our expert panels as the "Top 10 Promising Travel and Hospitality Institutes in India 2018". The listing has been composed after a meticulous research and comparisons among numerous institutes of the country with a hope of assisting the students from all over the country in broadening their horizons and helps them select the right institute.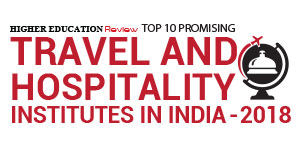 Nominate College/Institute
×
Nominate College/Institute
Our subscribers play a decisive role in finalization of our annual list of "Top 10 Promising Travel and Hospitality Institutes in India 2018" by nominating those which have served them with excellence and are praiseworthy. If you feel there is a College/Institute that deserves to be on our annual list, do write to us about them mentioning their value proposition.
Data not inserted