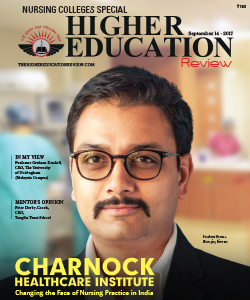 Top 10 Promising Nursing Colleges in India - 2017
The transformation of nursing into a profession can be traced back to the time when the pioneer of the nursing profession, Florence Nightingale in 1860 initiated nursing school at St Thomas' Hospital in London. Later in 1867, 'Lady of the Lamp' as Florence Nightingale was entitled, sent graduates from Nightingale School of Nurses to India in St Stephens Hospital at Delhi and started imparting training to Indian women in 1967.

Once accorded as just a person who takes care of the diseased, today nursing has evolved into a most scientific and noble profession. Nurses are referred as the backbone of the entire healthcare sector and are solemnly focused on providing optimum care and attention to the ailing people. They work in synchronization with the physicians, therapists, the patients and other team members within the healthcare center. Trained nurses are integral to run care units and different health related centers.

But in the present time, there is a reasonable amount of shortage in the number of nurses with a professional degree and practical training all over the world. As the nurses play a crucial role in the process of rendering quality and efficient service to the patients, this scarcity negatively impacts the overall healthcare spectrum. According to a report of World Health Organization (WHO), there is a shortfall of more than 4.3 million of professional nurses globally. This proves that the future prospective of nurses is pretty high. Private and government hospitals are seeking for qualified and practically aware nurses.

Given current concerns of this emerging challenges, numerous nursing institutions are been set up in the country. The INC (Indian Nursing Council) is the accreditation and recognition body for nursing education in India. The course curriculum of the nursing education is no more limited to basic nursing concepts, hence, over the years it has widened into post graduation and doctorate degrees. Institutions are undertaking research projects on nursing topics with the aim of granting an in-depth learning to the aspirant nurses. Owing to the flourishing demand of this sector, young individuals from all over the country are showing interest in pursuing a variety of courses in this area and practice as a nurse or enter into any premiere nursing institutions as lecturers.

Although, one is meant to have zeal and a sense of perseverance towards this profession, as caring selflessly for someone is not everyone's cup of tea.

We at Higher Education Review, therefore, have listed out 'Top 10 Promising Nursing Colleges in India - 2017,' which will give a explicit sense to the would-be nurses regarding choosing a fitting institution, which otherwise stands out as a puzzling task amidst the never ending list of nursing institutes.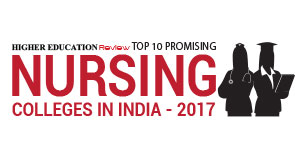 Nominate College/Institute
×
Nominate College/Institute
Our subscribers play a decisive role in finalization of our annual list of "Top 10 Promising Nursing Colleges in India - 2017" by nominating those which have served them with excellence and are praiseworthy. If you feel there is a College/Institute that deserves to be on our annual list, do write to us about them mentioning their value proposition.
Data not inserted