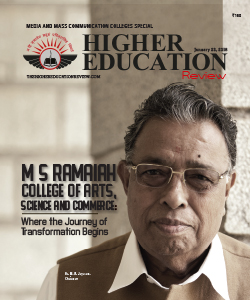 Top 20 Promising Media Colleges in India-2018
There is a reason behind calling Media, 'the fourth pillar of democracy'. Being the backbone of democracy, media plays a very important and impartial role between government activities and general public. The media has undoubtedly evolved and become more active over the years. It is the media that exposes loopholes in the democratic system, which ultimately helps government in filling the vacuums of loopholes and making a system more accountable, responsive and citizen-friendly. A democracy without media is like a vehicle without wheels. Mass media has a global availability and it has converted the whole world in to a global village.

In the term 'Media and Mass Communication', the media is referred to the medium of transmitting news and mass communication is the act of reaching to the masses and spread the word. Modern media comes in different formats, including print media (books, magazines, and newspapers), television, movies, video games, music, cell phones, various kinds of software, and the Internet. Each type of media involves both content, and also a device or object through which that content is delivered.

The media industry has evolved into a powerful entity over the years. As per FICCI-KPMG Indian Media and Entertainment Industry Report 2015, the Indian Media Industry is expected to grow at a CAGR of 13.9 per cent in the coming years. It clearly means that this sector is expected to become nearly Rs 1,964 billion by 2019. Due to its phenomenal growth in the past few years countless media colleges are mushrooming everywhere in the country.

The media education sector is not as old as compared to other disciplines; it is young and dynamic in its own way. Several colleges and universities are offering UG, PG, and Ph.D. programmes to the students in different types of media. From Content writing, Investigative journalism, Digital journalism to Radio journalism, Communication for Development and Broadcast Journalism, the scope and job prospects for media students are endless and vast. The only thing that the aspirants required is the sheer zeal of communicating with the public at the large, no matter through writing or just anchoring in a news channel; the core idea is to share.

But this sudden advancement has given birth to too many such institutions that are lacking highly in terms of infrastructure, faculty members and teaching pedagogy. Understanding the power and sensitivity of media professionals, it becomes very essential to inculcate the right amount of ethics and practical knowledge in them. Hence, we at Higher Education Review Magazine have compiled a list of media and mass communication colleges that are standing tall among its counterparts as, 'Top 20 Promising Media Colleges in India-2018'.Our expert panel has gone through numerous researches and rankings before preparing this list and we expect that optimum number of student will be able to clear their doubts through this.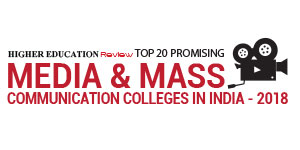 Nominate College/Institute
×
Nominate College/Institute
Our subscribers play a decisive role in finalization of our annual list of "Top 20 Promising Media Colleges in India-2018" by nominating those which have served them with excellence and are praiseworthy. If you feel there is a College/Institute that deserves to be on our annual list, do write to us about them mentioning their value proposition.
Data not inserted