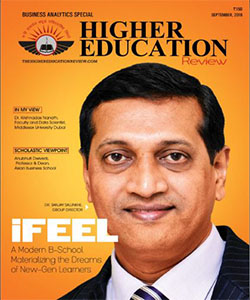 Top 10 Promising Business Analytics Institute
Termed as "The Sexiest Job of the 21st Century" in one of the most popular Harvard Business Review (HBR) articles- Data Scientist has emerged as an amazingly rewarding career path. While, professionals are opting to change their career route by pursuing a short-term data related course, fresh graduates are getting immensely inspired to take up a long-term data analytics programme. Presently, the data industry is in dire need of a large workforce that is instilled with required skills. Owing to the lower supply of professionals, renowned organizations are not even thinking twice while offering a huge package to the proficient analytics professionals.  

From healthcare to finance and telecom to machine learning, today every single industry deals with mammoth of data, and there where the data professionals come into the scene.  This field not only enables one to get into a lucrative job but also to start their own venture. Recently, the ferocious wave of startups striking every possible industry has also entered the analytics market. In fact, in order to provide a platform to the aspiring learner who wants to shine in this field, three eminent institutions – IIM Kolkata, IIT Kharagpur and ISI Kolkata, together came up with a two-year Business Analytics Program. However, the prominent issue that arises here is the seat limitation and the long duration of course, which do not allow a big proportion of students and working class to pursue such courses. For accommodating more number of students and sustaining optimum flexibility, in the recent times, numerous institutes all over the country initiated to conduct diverse kind of analytics courses- certification, diploma, bachelors, and masters.  

Amidst the growing number of institutes that are offering analytics courses, it often gets overwhelming as to which is the right one for you. Responding to such queries, we at Higher Education Review have formulated a list comprising of institutes which not only renders a productive learning experience but also have designed the curriculum and class schedule as per the convenience of both working professionals and students.  Titled as "Top 10 Promising Business Analytics Institutes 2018", the list has been brought to you by our expert panel and researchers, with a humble intention of simplifying your struggle while haunting for an apt analytics institute.


Nominate College/Institute
×
Nominate College/Institute
Our subscribers play a decisive role in finalization of our annual list of "Top 10 Promising Business Analytics Institute" by nominating those which have served them with excellence and are praiseworthy. If you feel there is a College/Institute that deserves to be on our annual list, do write to us about them mentioning their value proposition.
Data not inserted