Higher Education Review ›› Magazine ›› December-2016 ›› Special issue
Academic Productivity: Adi Shankara Institute of Engineering and Technology
Author : HER Team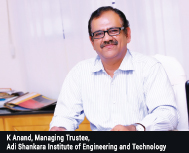 Named after the great philosopher Sri Adi Sankaracharya, a radiant figure, the rays of whose stupendous activities enlightened the whole world, Adi Shankara Institute of Engineering & Technology started its journey in 2001 at his birthplace Kalady, Kerala. The college, which started functioning with four UG courses, is now in its 15th year of successful service in technical education. "We believe in fostering all round development of the students. Hence, we place considerable emphasis on sports, co-curricular activities and in human values. We have included digital tools to help students in the development of personality, and the entire focus of the college is on instilling qualities of self reliance, courage, self-confidence and self-esteem in the students," says K. Anand, Sr. Advocate High Court Kerala and Managing Trustee of Adi Shankara.

With an intention to develop the communication skills, the institute has started an exclusive training department and right from the first year, they give a one-to-one training for each student. This training has found to be successful and as an extra step, a language lab functions within the college. Along with that, to bridge the gap between industry and academics, Adi Shankara has joined hands with some of the leading corporate companies in the country including Infosys, IEEE and Start-up-village. The institute also has tie-ups with SAP for establishing SAP student academy program, Intel Corporation USA to establish Intel Intelligent Lab, ICT Academy Kerala for Faculty development in communication technology and YOKOGOWA for internship and project implementation.

"Engineering education never gets complete without research activities," opines Anand and he adds, "The College is equipped with the Shankara Research Centre in Information Science, which works with various research organizations like C-DAC Trivandrum, IIIT-TVM and IT companies like Infosys, TCS and so on to develop various software and tools." Shankara Research Centre in Information Science, which was inaugurated by Dr. APJ Abdul Kalam in 2009, provides consultancy and training in the area of Information security, Data Mining, Business Intelligence and so on. The centre is fully equipped with higher end networking and computing infrastructures with digital libraries, E-Books, E-Journals and many more. The institute also has SHREIS Journal of Scientific Research, a quarterly international journal dedicated to the latest advancements in all branches of Engineering, Science, Technology, Mathematics and Business management and it keeps a record of the state-of-the-art research and promotes the research work in these fast moving areas.

On the flipside, Adi Shankara is indulged in making students socially committed and responsible by motivating them to work for the society. Anand takes pride in saying, "We have adopted a remote tribal village for electrification and our students are taken to such places every year as a part of their studies. We aim at creating competent professionals with ingenuity, adaptability, social commitment and ethical values," concludes Anand.

K Anand, Managing Trustee
K Anand is a leading senior advocate of Kerala high court. He says, "In this time of globalization, it is important that we remained focused in our mission to promote excellence in education. We aim at earning our institution an international reputation for excellence and developing it into a choicest destination for engineering education. We at Adi Shankara Educational Trust believe that true education is one that develops the overall personality of an individual. Therefore, at ASIET we take care that academics is complemented by co-curricula's, extra curricula's & social activities thereby fostering an all-round development of students."