Higher Education Review ›› Magazine ›› December-2016 ›› Special issue
Academic Reputation: M. Kumarasamy College of Engineering
Author : HER Team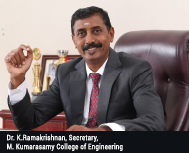 Every day the world is technologically developing and the youth needs to develop a lifelong learning habit to withstand the changes in world. The engineering graduates who are future makers of India need to be updated about the social changes so that they will be able to contribute well. M. Kumarasamy College of Engineering (MKCE), which was established by M. Kumarasamy Health and Educational Trust, started its journey in 2000, imparting technical education to develop responsible citizens to build a strong India.

The college has been member of various professional societies and associations. With the support of such collaborations, MKCE organizes technical talks and Webinars to provide a platform for the budding engineers to interact with professionals from various industries. "We are recognized as the best Infosys Campus Connect Partner and we are also accredited by various leading IT Majors like Tata Consultancy Services and Wipro Technologies," says Dr. K. Ramakrishnan, Secretary, MKCE. The institute has signed MoU's with industry from their core domain such as Yokogawa India Limited, Poras Technologies, Oracle Technologies, Siena ECAD, Pollution control board of Tamilnadu, BSNL, Launchpad LLC.

Further, the college imparts a specific Career Enhancement Credit Course, starting from the first year for the students in every department. This course named Career Skill Development (CSD) has been focusing on the soft skills, technical skills and communication skills of the student. "Apart from CSD, we also train our students on campus to corporate finishing course to enable them to perform from the day one," adds Dr. Ramakrishnan. Along with this training, the students are guided very well to attract the visiting companies at every stage of placement process.

MKCE motivates the students to be young entrepreneurs and thus the Innovative Entrepreneur Development Cell (IEDC) functions effectively to promote young talents and students interested in start-ups. "We provide the necessary ecosystem to encourage entrepreneurship among the students by conducting E-Awareness camp, College Bazaar and students are also guided by the financial institutions about the financial assistance and opportunities under the various government schemes," pinpoints Dr. Ramakrishnan. MKCE realizes the significance in research moulding tomorrow's engineers and thus works with a research centre at the mechanical department to take up research activities by both the faculty and students. "We provide financial assistance for the faculties to conduct research and publish research articles in journals and conferences," claims Dr. Ramakrishnan.

MKCE students are also offered value added courses. These are conducted after the regular college hours and thus they ensure that each student leaving MKCE with a degree will have completed at least two value added courses. The college maintains tie up with Accent Technologies for conducting the certified courses like Telelogic, C#, NET, Labview, JAVA, J2EE, J3ME and so on. By adopting an industry-based curriculum along with the inclusion of value added courses, MKCE updates the skills of the students with an understanding of the societal needs.