Higher Education Review ›› Magazine ›› December-2017 issue
Aston University: Assuring Employability on a Global Stage
Author : HER Team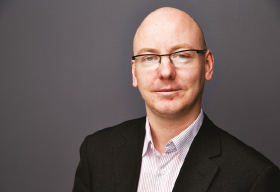 Paul Hebron, Head of Postgraduate Marketing and Communications Aston University
Situated in the midst of the Britain's second largest city, Birmingham, Aston University was first formed in 1895 as the Birmingham Technical College, which later earned the University status in 1966. Today, Aston University comprises of five schools- Engineering and Applied Science, Life and Health Sciences, Languages and Social Sciences, the Aston Medical School and the Aston Business School. It is a campus University, beatified with all the benefits a student generally looks for. The location acts as a significant perk for students where they amass a wide array of opportunities of living in a vibrant multicultural environment and gain a variety of experiences to explore.
Operating for over 50 years now, Aston University has evolved as a prime destination for students from all over the world including India.
In terms of quality, Aston University can be referred as the synonym for excellence, owing to which, it was recently awarded the prestigious TEF Gold award for teaching excellence. Aston is ranked as the top UK University outside London for graduate employability and is in the top 10 UK universities for producing millionaires. The University also holds the QS Five Star accreditation for unbeatable representation in teaching, employability, innovation, facilities, inclusiveness, and internationalization.
Paul Hebron, Head of Postgraduate Marketing, Aston University, says, "The recognition we receive from different organizations from time to time is because of the dedication put by every member of the University. At Aston, we are ardent to develop a squad of youth instilled with ideas and thoughts that will shape the businesses and communities of tomorrow". Being referred as the most established and largest provider of industrial placements in the UK, the students of Aston have the record of grabbing the maximum percentage of decent jobs in different sectors.
Boosting Comprehensive Proficiency
Operating for over 50 years now, Aston University has evolved as a prime destination for students from all over the world including India. Yearly a substantial number of Indian students' flies to Birmingham leaving their hometown in the pursuit of attaining top-rated education provided by Aston.
Aston has gifted numerous notable personalities to India like Dr. Ravi Kant, former Chairman of Tata Motors Ltd, A Velleyan, Chairman of the Murugappa Group, Dr. Santrupt Misra, Chairman of the Aditya Birla Group and so on, who happens to be the role model for many Indian students. "The relation we have built with our alumni community has always been proved as a blessing for both the institution and the international students residing over here," opines Hebron. He further adds, "The courses chiefly opted by the international students include Business and Management, Entrepreneurship and International Business, Supply Chain Management and Human Resource Management and Business."