Higher Education Review ›› Magazine ›› May-2018 ›› Special issue
Aurora's Business School: Defining Success in the Changing Times
Author : HER Team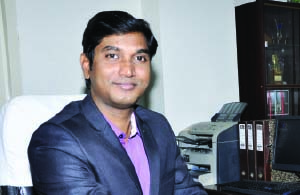 Dr. K. Raghu Naga Prabhakar, Director Aurora's Business School
In the west zone of Hyderabad, Punjagutta is an emerging industrial hub providing fresh graduates with the cream of job opportunities in a plethora of repudiated corporate firms. Situated near the twin bridge flyover of Punjagutta, Aurora Group is only a stone throw away from these thriving industries. In fact, for the past two decades, Aurora Group has been acting as an excellent feeder-service for the businesses to flourish by preparing ready-to-employ graduates. Enrolling more than 6,000 students every year, Aurora Group has become one of the largest private education bodies in South India, offering quality undergraduate and postgraduate level professional courses in Engineering, Management, Commerce, Science, Education, Law, Pharmacy, Architecture and Information Technology.
Aurora's Business School (ABS), the only management college under the Aurora Group for earning a Post Graduate Diploma in Management, has inherited all qualities of its parent institutions. "ABS is set up with a vision of crafting eco-sensitive global business leaders with human values to serve the emerging needs of the business. The students of this school have multiple advantages like the state-of-the-art campus, industry-oriented and internationally exposed faculty, all-around grooming, world-class teaching-learning practices, excellent placement opportunities, international vetting and so on," says Dr. K. Raghu Naga Prabhakar, Director, Aurora's Business School. Recognised by the AICTE, ABS offers two-year full-time PGDM with specializations including Finance, Marketing, HR, Operations and Supply Chain, Hospital Management and Rural Management. Catering to the demand of working professionals, the institute has been providing Executive PGDM for 15 months, a three-year part-time PGDM.
Over 67 companies visit the ABS, recruiting 97 percent of its graduates from the campus by offering salaries ranging between Rs. 3.75 to Rs. 8.3 LPA
Operating amidst of buzzing businesses, today ABS is a beehive of professional activities. Dr. Raghu states, "Industry plays a key role in the functioning of our B-school. Our governing council members are drawn from the senior executives from the industry. They give valuable inputs for framing our curriculum." ABS has dynamic and regularly up to date syllabi, which is delivered through a finely crafted interactive and experiential teaching-learning methodology. "Our syllabus is the latest, comprehensive and is highly industry oriented. It is benchmarked with the curriculum of globally best B-school," adds Dr. Raghu. The curriculum of ABS supplemented with a number of add-on courses.
"Our faculty members deliver content beyond the syllabus to cover updates on the business. They have past work experience in the industry and are well aware of the business education sector. We encourage them to go through various b-school surveys and reward for innovative suggestions for improving our business school's functioning," elaborates Dr. Raghu. Employing 17 PhD holders in a team of 53 faculty members, ABS is not less than any top-notch business schools in the country when it comes to the teaching arsenal. As a research-focused institution, ABS augments the learning experience of the students by bringing the latest knowledge into the classrooms.