Higher Education Review ›› Magazine ›› March-2018 issue
Balurghat B.Ed College :Empowering the Society through Education
Author : HER Team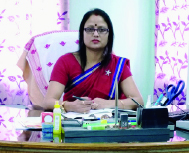 Dr. Bobby Mahanta, Principal Balurghat B.Ed College
Around 450 kms away from the 'City of Joy,' Kolkata, Dakshin Dinajpur is ranked 256th out of 560 backward districts in India. Nestled between India and Bangladesh, this boarder district has neither a prosperous present nor a glorious past. During the partition of India and Pakistan in 1947, the population of Balurghat, the district's headquarters of Dakshin Dinajpur, shot high from 5, 000 to 50, 000, creating several socio-economic and socio-educational problems. Like many border regions in the east and north of the country, Dakshin Dinajpur has not completely recovered from this exodus. Apparently, in the process of elevating the status of India from being a British colony to a developing economic powerhouse, the rulers of the new and independent India conveniently forgot about the developments of Dinajpur region, especially its education sector.
The endless efforts by the college have, in fact, made it the first college where 99 students out of 100 obtained 1st class in the session 2004-05.
However, people in this part of the country have already seen worst of the times. Now, they would unite to do anything, not to survive, but to thrive as a community. Balurghat Educational Promotion and Welfare Trust is one such enterprise created by group of distinguished personalities in Balurghat. Since 2004, the Trust has been producing trained teachers in order to improve the quality of teaching at the school level and promote education through Balurghat B.Ed. College. "Dakshin Dinajpur is primarily an agro-dominated district with its maximum portion of area being rural, where economic activity varies with the variation of agricultural seasons. Since, a large chunk of its people belonging to the tribal classes, it is almost impossible for people to manage money to undergo higher education in bigger cities like Kolkata," explains Dr. Bobby Mahanta, Principal, Balurghat B.Ed College.
Affiliated first to the University of North Bengal (2004-2008), then to the University of Gour Banga (2009-2017) and presented to the West Bengal University of Teachers' Training, Education Planning and Administration, Kolkota, Balurghat B.Ed. College, a ray of hope for many aspiring teachers for getting proper training and education, is the first self-financing college in North Bengal with NAAC and UGC enlisted college under 2(f) & 12(B). The college since establishment has proved to be a blessing for the millennial by offering a range of full-time and certificate courses and distance education. In addition to regular two-year B.Ed, M.Ed. and D.El.Ed. courses, the college offers B.Ed. programme through distance mode (IGNOU & NSOU) to students who are unable to physically attend classes. "We have introduced Spoken English and Foreign Language Courses in collaboration with BBC and supported by The British Institute (a division of the British Institute of Engineering Technology India), Kolkata," adds Dr. Mahanta.
Modern Approach to Teaching