Higher Education Review ›› Magazine ›› December-2017 ›› Special issue
Big Data & Analytics : Data Brio Academy
Author : HER Team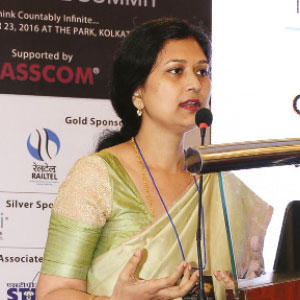 Soma Banerjee, Director Data Brio Academy
India is currently among top 10 big data analytics markets in the world and the country is striving to become one among the top three markets in the next three years. At present Data Analytics is a $2 billion sector in India and it is expected to witness eightfold growth to reach $16 billion by 2025. This has generated tremendous demand for data savvy professionals globally and premier training institutes like the Data Brio Academy (DBA) are bolstering the nation's vision of 'Make in India' using data science. "We are in a new world where data is the new oil!Now,the availability of data is increasing due to automation, social media and digitization.On the flipside, the storage cost of data is decreasing due to cloud infrastructure. Many organizations have started looking at using their data to stay ahead of competition," opines Soma Banerjee, Director, Data Brio Academy.
DBA is the first training institute in India, which is compliant to NASSCOM's qualification pack on analytics and data science
DBA is the first training institute in India, which is compliant to NASSCOM's qualification pack on analytics and data science. The academy is also an authorized partner of Webel, a government of West Bengal undertaking for skill development initiatives in Big Data, Analytics, Digital Marketing and Android mobile development. At present, with manyNASSCOM certified Master Trainers on the board,the institute provides courses in the domain of Data Science, Analytics using R, Python, IBM SPSS and SAS as well as Machine Learning, Big Data Hadoop and Spark, Cognitive analytics, Data Visualization using Tableau, Microsoft Power BI and so on. They also provide courses in Digital Marketing and Google Analytics and, Android mobile app development.
A Career Oriented Learning
The focus of DBA has always been on providing career, and not just training, on data science and emerging technologies. "We lay utmost importance on hands-on learning through project and internship with companies. Due to this, not only students or fresher graduate come for skills needed in the market today, a large chunk of working professionals also come to us for re-skilling," says Banerjee. Since its inception in 2012, DBA is a part of the Executive Council of Data Science Foundation, which organizes International Data Science Summits, where the Corporate and Academics meet to exchange ideas, publishes Data Science magazines and promotes data scientist community globally.
"Our objective has been to provide an eco-system for continuous learning," claims Banerjee.DBA regularly organizes webinars by industry practitioners for the students to provide exposure on latest trends in the industry on techniques as well as application. The practical hands-on teaching, video courses to support learning, tie-ups with industry practitioners on a continuous basis on new trends and research areas, and placement support are the other features associated with the institute.