Higher Education Review ›› Magazine ›› December-2017 ›› Special issue
Chartered Accountant: Sri Sankara Coaching Centre
Author : HER Team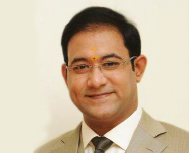 M. S. Niranjhan, Director Sri Sankara Coaching Centre
Offering Value Based Coaching for CA Aspirants
Once Former Prime Minister Jawaharlal Nehru claimed Chennai as the intellectual capital of India and since then the city has been vehemently involved in maintaining this title. This city has made numerous contributions in the field of education and one among them is Sri Sankara Coaching Centre, India's oldest and premier institution providing coaching classes for the Chartered Accountant aspirants. Established in the year 1979, Sri Sankara has tutored more than 3,50,000 students of which a large majority has successfully emerged as qualified Chartered Accountants with All India Ranks in their debut attempts.
Throughout these years, the alumni of Sri Sankara have been placed across the globe in the position of chief financial officer, chief executive officer, chartered accountants, group financial controllers, financial controllers, senior accounts manager and so on.
The institute was set up by R. Nagarajan, a chartered accountant along with his wife Rajalakshmi Nagarajan as a small centre with few students. However, today it has grown in a big way as a premier institution, which guides the students for their success in the challenging professional courses. "All the credits for our success go to the excellent performance of the students and the dedicated efforts of the experienced faculties," says M. S. Niranjhan, Director - Administration & Students Welfare, Sri Sankara Coaching Centre (SSCC).
Institute of Chartered Accountant of India (ICAI) provides elaborate study materials and allied study resources for the students pursuing Chartered Accountancy Course. Apart from the study materials given by ICAI, the institute also provides supplementary study materials in simplified language to facilitate the students with a familiarity over the subject. "We have a team of 42 faculty members who collectively make the study plan and this team also effectively acts as mentors for the students pursuing chartered accountancy," pinpoints Niranjhan.