Higher Education Review ›› Magazine ›› December-2016 ›› Special issue
Collaborative Learning Environment: Karpaga Vinayaga College of Engineering and Technology
Author : HER Team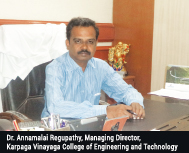 Located in the outskirts of Chennai city at Chinna Kolambakkam, near Madhuranthagam, Kanchipuram District, Karpaga Vinayaga College of Engineering and Technology (KVCET) is hub of latest technological activities. Founded by Regupathy, philanthropist and former Minister of State for Environment and Forests, Government of India in the year 2001, KVCET gives more stress for practical knowledge and industry specific training, particularly in the branches of Biotechnology and Biomedical Engineering. Since Karpaga Vinayaga Institute of Medical sciences and Karpaga Vinayaga Institute of Dental Sciences are located in the same campus where KVCET is located, the students and faculty members work jointly with these institutions for their research and practical needs. "This is a unique opportunity of our institution, comparing to any other college in the region. Departments of Biotechnology, Computer Science and Engineering, Electronics and Communication Engineering and Chemistry are recognized Research Centres by Anna University and our faculty members are guiding research scholars for PhD and MS in addition to conducting research, publishing research articles in refereed journals and organizing conferences, seminars and training programs," says Dr. Annamalai Regupathy, Managing Director, KVCET. The Institution gives equal importance to research and development activities by creating state-of-the art research facilities and has already undertaken research projects worth Rs 60 lakhs sponsored by funding agencies such as Department of Scientific and Industrial Research, DST and many more. "Our faculty members are publishing more than 140 papers in national and international journals and conferences every year. Students are encouraged to engage themselves in real-time projects to stimulate their research interests," adds Dr. Annamalai.

While, the current education structure in our country today focuses on teaching and learning, KVCET has been offering job focused training, which is essential for students, if they are to become competent professionals. "One of the most important sentiments that is being echoed across the country today is that the graduates coming out of colleges are not job-ready and only about 25 per cent to 30 per cent are employable. The skill sets required for jobs are ever changing and it is the collective responsibility of both academia and industries to bridge the skill gap to enable fresher graduates to become job ready," opines Dr. Annamalai. With more than 51 MoUs that have been signed with leading industries, manufacturing units, IT Companies, KVCET understands the ground realities and they are striving hard to bridge the gap between industry and academia.

In addition to that, KVCET has tie-up with companies such as ICT Academy, CADD Centre, Revature, and many more to create specialized courses in various domains. Increasing collaborated efforts between college and organizations has led to a rise of various innovative professional courses that are today helping employees becoming skilful, thereby making them industry ready. "Our plan is to have more tie-ups with industry by bringing in companies to solve their problems through student projects. We will also concentrate on research and consultancy activities, which will provide adequate knowledge for our faculty and students to make attempts to solve the issues more relevant to the society," concludes Dr. Annamalai.

Dr. Annamalai Regupathy, Managing Director
Dr. Annamalai, M.B.B.S., M.S., M.Ch., (UK), is the Managing Director of Karpaga Vinayaga Educational Trust, was founded in 1993 by Thiru S. Regupathy, Former Minister of State, Government of India. He says, "Each year, we look at focusing and assessing the industry trends, demand-supply gap, skill gap and accordingly plan programs and activities for students. This will help students to become job-ready with the requisite skills that are in demand by organizations today as well as maintain a balance between the prescribed syllabus and the industry requirements."