Higher Education Review ›› Magazine ›› December-2017 ›› Special issue
CPA & CMA: Miles CPA Review
Author : HER Team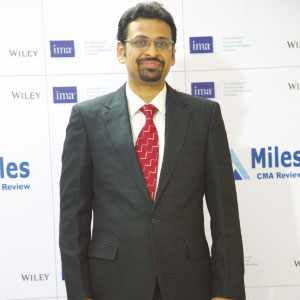 India has many CA professionals, who can handle the global compliance requirements of companies that have a presence in multiple nations. However, it has been always a challenge for Indian CA professionals to meet and keep up with the complex and changing requirements set by the Securities Exchange Commission of the U.S. With many multinational companies entering India, people who have knowledge and credibility about the GAAP, IFRS, US Compliance and Taxation are in huge demand.

Now, it is the time for CPA's (Certified Public Accountant) and CMA's (Certified Management Accountant). With broader recognition in the U.S., India and around the world, CPA is becoming a buzzword in the accountancy field. Having successfully trained hundreds of students for the CPA and CMA exams, Varun Jain, Founder and National Instructor of Miles CPA Review, says, "Many reputed companies in India are ready to pay their employees to get a CPA or CMA certification. This means, the demand has increased than the supply and there is no better time than now to take up CPA or CMA."

For Jain, the CPA and CMA designation has not just earned him a multi-fold hike in paycheques, but also enlightened him with knowledge of global accounting and financial concepts. Now, through mentoring learners on this regard, he is helping Indian students and professionals in obtaining the internationally acclaimed CPA and CMA designations, which would add to their knowledge base, enhance their credibility and give them a global perspective. "There are nearly 2000 candidates who opt for CPA and almost 2500 for CMA in a year. Among these, we train around 1000-1500 candidates," says Jain.

A team of 40 expert trainers work with Jain in the effective transfer of knowledge. As CPA certification involves critical thinking, efforts are made to deeply inject every concept into the students. "Every faculty possesses minimum of 5 – 10 years of experience. The qualification and the experience of my team add on to their skill-set in the perfect moulding of our learners," proudly claims Jain. Being the largest provider of CPA and CMA classroom training in India, the institute is striving to create an ecosystem for the international certifications.

With centres in Hyderabad, Mumbai and other 8 cities across the country, the institute works on three verticals including individualized training, corporate training and the one in association with universities. The university tie-ups include Christ, Jain University, LPU and many more. "Adding on to the credibility, we even have the big4s including, Deloitte, EY and KPMG as clients," pinpoints Jain. The institute also works with firms like World Bank, MetLife, American Express, Genpact, VM Ware, AIG, J P Morgan Chase, Accenture, Capgemini and so on.