Higher Education Review ›› Magazine ›› March-2018 issue
DAV College of Education, Abohar: Where the Morals Adjoins Modernity
Author : HER Team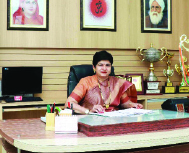 In the field of education, Dayanand Anglo-Vedic College Managing Committee, New Delhi, popularly known as DAVCMC, is one of the most trusted non-governmental organisations in India. Since the foundation of the first DAV School in 1885 at Lahore, the institutions under the administration of DAVCMC have created Nobel laureates, Prime Ministers, Scientists, Sports persons, Defense personnel, Actors, Media persons, CEOs and many more, making meaningful contributions to the economic and social development of India. Today, DAVCMC runs and manages over 840 educational institutions comprising of public schools, grants-in-aid schools, colleges, institutes of professional education and research institutions, employs 50,000+ people and educates more than 20 lakh students every year.
One of the prominent institutions of higher education under the DAVCMC, New Delhi is DAV College of Education, Abohar, which was established in 1968. Celebrating its golden jubilee this year, DAV College of Education is located in Abohar, a beautiful city that lies close to the India-Pakistan border in the state of Punjab. "DAVCMC established this premier teaching-training institution with the pious vision to produce teachers of an impeccable sense of teaching ethics, sterling national character and emphatic social commitment," says Dr. Urmil Sethi, Principal, DAV College of Education. The College is permanently recognized by NCTE and affiliated to Panjab University Chandigarh under 2f and 12B clause of UGC. College is also recognized by NCERT for running ETT course. College is also recognized by the government of Punjab under the grant in aid scheme.
For the placement of students, DAV College of Education has robust plans of collaborations with other teaching practice schools and colleges through guidance and counseling cell of the institute.
DAV College of Education is one of the oldest colleges in Punjab, which is catering to the needs of the Abohar region by equipping each pupil with all the indispensable traits and necessary life skills to be an impressionistic teacher. Since its inception, the college has been rendering selfless contribution for the cause of society through modern education and Vedic values. Dr. Sethi opines, "It was the missionary consciousness of the dynamic and motivating leaders like Justice Mehar Chand Mahajan, Dr. G.L. Dutta, Darbari Lal, T.R. Tuli, G.P. Chopra and Shri Punam Suri (Present President of DAVCMC) that DAV continues to surge ahead and achieve sublime success."
An Excellent Education for All