Higher Education Review ›› Magazine ›› January-2015 issue
Don Bosco Group of Institutions: Providing an Excellent Learning Environment
Author : HER Team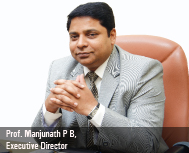 It is a fact that only 25 percent of graduates in India are employable. Many of the companies that visit thousands of campuses across the country to recruit their future employees usually end up picking a select few as the remaining candidates do not possess the necessary skills. This showed a huge disparity between the academic and industrial world. In order to curb this problem Don BoscoGroup of Institutions began to focus on providing its students with the necessary skill sets and along with quality knowledge. "The quality in academics and industry exposure are two things that most engineering & Management institutes are lacking," says Prof. Manjunath P B, Executive Director, DonBosco Group of Institutions, Bangalore.

Established in 2001, the institutionis run by the Wayanamac Education Trust which was founded by Prof. B. Bylappa, a Philanthropist, Educationist, Technocrat and a leading industrialist. It is located on a sprawling 30 acres campus in the South West part of Bangalore on the Bangalore-Mysore National Highway.The institution encourages its students to score more than 80 percent marks in their academics and at the same time provides them with excellent quality - job training.

Facilitating crucial Industry Training

The management at DBGI realized that it was important for students to also gain practical knowledge while attaining good grades. The institute partnered with Kuka Robotics Company, who setup a lab with their machines in the campus. During the course, students of the mechanical branch are taught on how to use and service the machine. In this manner, the company and the institute ensure that the mechanical students have hands on understanding on the equipments they have to operate post placements. The institute has also partnered with Siemens, Oracle, Intel and Bosch in order to train the students in the information science, computer science and electronics and communications branches.

Every year, the institute ensures to invite these professionals to their campus in order to train the students as per the industry requirements. This step allows the students to obtain a certificate along with skills and knowledge in the streams that they are specializing in. DBGI ensures that each and every student that studies in the institute is able to secure a job by giving them an edge over students from other colleges. Apart from ensuring that the students are given all the necessary guidance to accomplish academic excellence, they are also trained in software skills development, communication and business simulation corporate training. While the training is outsourced, the institute ensures that the trainers provide the best training for each and every student. Since different types of students from all over the country pursue Engineering & Management at DBGI, the institute hopes to raise their knowledge and confidence with the trainings. Workshops are conducted twice a month depending on various specializations and students are also encouraged to attend workshops and events at other institutions to gain more knowledge.