Higher Education Review ›› Magazine ›› December-2017 ›› Special issue
Engineering & Medicine :Edupertz
Author : HER Team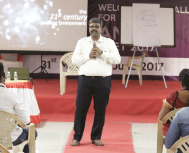 Shankar, Managing Director Edupertz
Catalyzing the Young Minds to Achieve the Best
Despite having a large number of engineering aspirants in the country, students from Tamil Nadu are still a minority in the India's premier engineering colleges, particularly in IITs. The IIT Madras is an epitome of this scenario, as the campus only hosts mere seven percent of students from its home state. The performance issues in the competitive exams might be one of the major reasons behind the lack of Tamil Nadu students in the top IITs; indeed, only 17 per cent of the 3,749 candidates from Tamil Nadu, who appeared for the Joint Engineering Entrance (Advanced) examination, have cleared it this year. Although there are many coaching institutes in the Tamil Nadu, Edupertz is highly focussed in augmenting the number of students from Tamil Nadu in the country's top-notch institutions with an excellent arsenal of expert trainers.
"Our institute is mainly promoted by a team of faculty members from Kota and Hyderabad, having expertise in the field of Entrance coaching for about 20 years with proven track of results. Now, we have two centres in Coimbatore and Pondicherry where we have employed over 120 teachers who help the young students in cracking the toughest exams in our nation," says Shankar, Managing Director, Edupertz. Last year alone, Edupertz had around 4800 students and many of them ended up in grabbing one digit ranks in importance exams like JEE, NEET, JIPMER and so on. "We have already proven our results last year by making our students achieve within the top 10 ranks in the state (Pondicherry and Tamil Nadu). For instance, our students from Aditya Vidhyashram School named R. Madhavaram and K. Deepshikha got All India ranking 121 and 148 respectively, which is definitely a reflection of our quality training," claims Shankar.
Last year alone, Edupertz had around 4800 students and many of them ended up in grabbing one digit ranks in importance exams like JEE, NEET, JIPMER and so on
MEDJEE, the core programme of Edupertz, which is carefully crafted to coach the students from Grade VI to XII for scholarship exams, All India Engineering and Medical Entrance Exams, has already gained a reputation among the students and parents. The institute trains students of grade XI and XII for board and competitive exams like IIT - JEE, BITSAT, AIPMT, AIIMS, JIPMER, ICAR, VITEEE, AMRITA, SRMEEE, COMEDK, KCET, KEAM and so on. At the same time, in Grade VI to X, Edupertz lays the foundation for all the above said exams, along with scholarship exams like NTSE, OLYMPIADS, KVPY and many more. "Anxiety can be a big hurdle for many of the students as they need to go through a rigorous process of learning. Here, we fight against anxiety by making sure that the students do not compare themselves with their fellow mates, but learn from each other. We do not make students memorise concepts, but make them understand why they need to study those," opines Shankar.
At present, Edupertz is associated with some of the reputed schools in Tamil Nadu and Pondicherry, where they run integrated program for competitive examinations like IIT-JEE, AIIMS, AIPMT, NTSE, KVPY and many more. The institute also promotes another premier programme XL-CPT for Charted Accountant aspirants.