Higher Education Review ›› Magazine ›› November-2017 issue
Faculty Excellence: Loyola Institute of Business Administration
Author : HER Team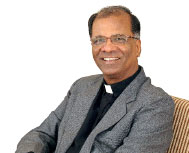 Loyola Institute of Business Administration (LIBA) is managed by Jesuits well known for their contribution to education. The Jesuit tradition of education has a distinguished history spanning more than five centuries. Jesuits started their first school in 1548 at Sicily and today there are hundreds of institutions worldwide and there are quite a few prestigious institutions in India which include Loyola College, Chennai. One of the main reasons for Jesuits to get involved in business education is to form ethical, principle-centred and socially responsible leaders with a global perspective and entrepreneurial spirit. What LIBA is and what it stands for can be explained in two words – Excellence and Ethics. "We - all of us, faculty, students and staff are here in pursuit of excellence and ethics, I believe, we need to evolve an atmosphere and programs which helps us to develop these attitudes, values and beliefs that form managers' world view and professional identities," says Fr. P. Christie,SJ, Director, LIBA.
LIBA offers primarily a two-year full-time PGDM course, approved by AICTE, accredited by NBA and recognized by AIU. It also offers other programs: Part-time PGDM (AICTE approved), Ph.D. (affiliated to University of Madras) and one-year executive diploma programmes. Management Development Centre offers various customized programmes (short-term and long-term) with a focus on skill development. The Institution works with an undeterred zeal to offer its students the best of the education, blending classroom and experiential learning.
Located in Chennai, LIBA is indeed resilient to recessions and has constantly achieved 100 percent placement throughout its journey.
LIBA has established various Centres of Excellence: Centre for Business Ethics and Corporate Governance (2005); Centre for Logistics and Supply Chain Management (2007); Prof.C.K.Prahalad Centre for Emerging India (2011) focusing on social innovation and social entrepreneurship; Incubation Centre (2016) mainly promoting social enterprises and a new centre of excellence in collaboration with TCS – Centre for Business Analytics and Insights is proposed to commence this year.
LIBA since its inception in 1979, has seen great enthusiasm from the industry to recruit some of the brightest minds of the country. Located in Chennai, the institute is indeed resilient to recessions and has constantly achieved 100 percent placement throughout its journey. The highest salary offered over the past five years at LIBA has been ranging from Rs. 14 lakhs to Rs. 21 lakhs per annum and it is a definite reflection of the quality of teaching offered by the expert faculty members. LIBA is privileged to have highly competent and qualified faculty, visiting scholars, both inland and overseas, and adjunct faculty. Their outstanding qualifications, long exposure to industry, international exposure and rich experience in executive functions substantially contribute to shape competent managers. They share with the students in the form of case studies, personal experiences and anecdotes. Fr. Christie, proudly emphasizing on the caliber of the faculty members adds, "21 out of 22 of our faculty members hold PhD and 16 of them have an adept industry experience."
While, the success of a business school is also influenced by the strength of its ties with the corporate sector, LIBA is privileged to have continuous support and goodwill of many leaders in the corporate world. The institute has constant interaction with industry and commerce associations and is a registered member of CII, FICCI, MMA, MCCI and TiE. The Governing Council, Academic Council and Advisory Committees have many industry doyens as members. Senior corporates are regularly invited to offer courses and to give guest lectures."A major driver in our quest for better relations with industry has been our ever-growing Management Development Centre (MDC)," mentions Fr. Christie SJ.