Higher Education Review ›› Magazine ›› December-2016 ›› Special issue
Faculty Excellence: Prof. Ram Meghe Institute of Technology & Research
Author : HER Team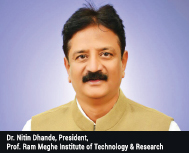 Prof. Ram Meghe Institute of Technology & Research was established in the year 1983 so as to meet the gap between global demand and supply of qualified and highly trained technical human resources. The Institute is marching towards golden jubilee with this one and only purpose. Under the aegis of The Vidarbha Youth Welfare Society (VYWS) led by President Dr. Nitin Dhande and his team, the Institute has a prestigious standing amongst the topmost technical institutes of Central India. The Institute is offering UG/PG programs in Civil, Mechanical, Electronics and Telecomm, Computer Sci. and Engg. and Information Technology. The Institute also offers PG programs in Management studies and Computer applications. "As far as technical education is concerned, our institute has provided skilled professionals to the industry all these years and will continue with the same," proudly boasts Dr. Nitin Dhande, President, VYWS.

Affiliated to Sant Gadge Baba Amravati University, Amravati, Prof. Ram Meghe Institute of Technology & Research is situated in Badnera, a suburb of the city of Amravati-Maharashtra. The founders set the vision of the institute as- "To become a pace setting centre of excellence believing in three universal values namely Synergy, Trust and Passion, with zeal to serve the nation in the global scenario." With time,the Institute has actualized this vision by producing batches of trained professionals from entire India and guided many young minds who would not have received such quality technical education otherwise.
"Several of our students have been benefited as we provide substantial scholarships to meritorious as well as needy students, who are from the rural background and face financial shortcoming as a barrier against the higher education," adds Dr. N. W. Kale, Principal, Prof. Ram Meghe Institute of Technology & Research. The institute secures a cent percent placement record and their alumni are working globally in reputed organization and the industry. Many of them are highly successful entrepreneurs. Prof. Vinay Gohad, Vice-President, VYWS adds, "At PRMIT & R, Placement time is not a mere annual ritual; it is a time for showcasing the best qualities of our young engineers to the industrial world. The Training & Placement Department functions with the primary aim of placing each student in top-notch organizations."So far, in the present year, the ongoing placement has seen over 70 organizations offering highest emolument of Rs. 7.5 lakh per annum. Often regarded as one of the best technical Institute for overall education, the industry experts expresses the training provided at the Institute as quite commendable. Supported by 34 various MoUs, tie-ups, and indulging students in activities such as workshop, seminars, 152 research projects, industry expert discussions have bore fruitful results.

This performance centric Institute regards their faculty members as their biggest assets as they carry excellent expertise and laurels for the work done in their respective fields. With 43 PhD holders among 268 faculty members, PRMIT&R records to have the highest number of doctorate faculty members among the technical institutes in the state of Maharashtra. Guiding towards better future, these members are also entitled to guide students through research work and following entrepreneurial ventures under the Entrepreneurship Development Cell. "For the students,our faculty is just like the North Star in the sky that guides all lost travellers towards the correct path leading to their glorious destination, "adds Mr. Yuvrajsing Chaudhary, Secretary of the organization.
Mr. Pankaj Deshmukh, treasurer, VYWS expresses his commitment that "The parent body shall always ensure availability of sufficient resources so as to achieve state-of-the-art in every working area of the institute".

"As we move on, we ought to seek academic autonomy very soon but will truly stick to our mission to dedicate ourselves to the highest standard of technical education & research in core & emerging engineering disciplines and strive for overall personality development of students," concludes Dr. N. W. Kale, Principal, PRMIT & R.