Higher Education Review ›› Magazine ›› December-2016 ›› Special issue
Faculty Proficiency: Sanjivani College of Engineering
Author : HER Team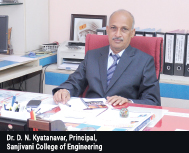 Located in Kopargaon, a small municipality in the Ahmednagar district of Maharashtra, Sanjivani College of Engineering has been on a mission of using science and technology as principal instruments for improving the quality of the life of people for global competitiveness. The institute is committed to the development of technical human resources for socio-economic transformation of rural India through education, training and research in different disciplines of engineering and management. "Our mission and vision make us different from other engineering colleges in Maharashtra. We strongly believe that social transformation is possible only through uplift of rural masses, which will bring them into the mainstream," says Dr. D. N. Kyatanavar, Principal, Sanjivani College of Engineering.

Establishing an engineering college in the rural area and providing an education, which can match up to the standards of any city based colleges, is a herculean task for any governing bodies. Established in the year 1983 by the Sanjivani Rural Education Society, Sanjivani College of Engineering was one such struggler for its very existence during the earlier years. "It was almost impossible to get qualified faculty and retain them. There is a heaven to earth difference between what is known as Sanjivani College of Engineering today and what it was three decades ago," states Dr. Kyatanavar. Now, all the departments of Sanjivani College of Engineering have dedicated and qualified faculty with excellent retention rate. The Institute provides all possible facilities for improving qualification and skill set of its faculty.

With more than 195 faculty members on the board today, Sanjivani College of Engineering has an effective teaching learning process, which gives equal importance to classroom teaching, practical demonstration and Industry Institute Interaction. "Being an institute that located in a rural area, we pay special attention for enhancing the academic standards as well as proficiency in soft skills. Special training sessions are arranged for improving the communication skills of students in addition to various other value addition programs. This will in turn make them useful to the society and usable by the society," claims Dr. Kyatanavar.

With help of an active Industry Institute Interaction Cell, which acts as a bridge between the Industries and Institute, Sanjivani College of Engineering is very keen in establishing healthy relations with Industry through sponsored projects, internships and MoUs. In the last academic year, the institute had around 20 projects sponsored by various Industries and so far, they have signed more than 30 MoUs with various industrial establishments. As a result, the placement figures at Sanjivani College of Engineering in on the upswing. "We believe that the golden Mantra for survival in today's fast changing Information era is change. The Industrial environment has been changing so fast that the Institute has to change its processes and procedures to tune with that and we intent to implement this through collective interaction with experts from both industry and academia," concludes Dr. Kyatanavar.

Dr. D. N. Kyatanavar, Principal
"The mission of this Institute is to develop the Technical Human Resources towards socio-economic growth of Rural India for global competitiveness. I am quite sure that with the earnest co-operation of our students, their guardians and the faculty, we shall be able to achieve the same."