Higher Education Review ›› Magazine ›› December-2016 ›› Special issue
Fostering Innovation: Vidyavardhaka College of Engineering
Author : HER Team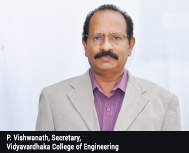 Recently, a group of 20 students from Vidyavardhaka College of Engineering, Mysore won 3 out of 7 awards in an inter-college competition conducted in Coimbatore. Before that, this group had already arranged and designed a GoKart mission in their own campus and set for the competition in the neighboring state only to return with awards and accolades for their creativity, spirit and team work. Continuing with the same encouragement by their faculty members, these students have not only proved their worth for this particular event but every individual has set foot in the world of being true engineers with many of such events.

Established in 1997, Vidyavardhaka College of Engineering, popularly referred as VVCE, is one of the most prestigious engineering colleges in Karnataka run under the banner Vidyavardhaka Sangha. Known for a conducive-learning environment, VVCE excels in the art of making these upcoming engineers strive and seek for the best knowledge and skills. "Our students are trained to be problem solvers. We ensure that they grow day by day with every lesson they learn. Our attempt is to achieve holistic learning and students can solve problems innovatively, improve their leadership qualities, presentation skills through our special trainings," says P. Vishwanath, Secretary, VVCE. At VVCE, every student is involved in the process, thus making it activity based learning.

Supporting the management to produce best brains for the industry is faculty members who have ample amount of expertise. All the branches of engineering have faculty members with the concerned specialization and interdisciplinary courses as well. This ensures the involvement in research activities and also to more activities to pass on the same amount of expertise to the students. Vidyavardhaka has faculty strength of 162 against student strength of 2664. Out of 162, 25 arewith PhD and they publish atleast two papers per head per year. Last year, the faculty members published 224 papers.

"A number of funded research project activities are undergoing currently. KCTU- Karnataka Council for Technology Upgradation project on "Performance Study on Natural fibre in forced polymer composite" project which cost around Rs. 66 lakhs and KCTU has sanctioned 50 percent of the amount," shares Vishwanath. Similarly, a number of projects are awaiting approval from various government bodies and organizations. Innovation through research and development and promoting incubation from the same for entrepreneurship is also one of the thrust areas for the institute.

VVCE plans to start an incubation centre soon, develop a sports complex for indoor games, two new hostels, and NBA accreditation for UG programs. The institute has been awarded as "Outstanding Engineering Institution- South" and "Excellent Engineering College in Karnataka" by VTU recently. "We are an institution of Excellence in Technical Education and Management empowering individuals for significant contributions to the society," says Vishwanath. Journey of VVCE towards excellence has indeed taken leaps and bounds, and shall continue the same in future.