Higher Education Review ›› Magazine ›› December-2016 ›› Special issue
Global Outlook: SDM Institute of Technology
Author : HER Team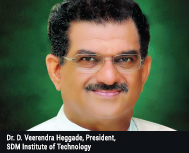 Addressing this state of rural higher education in India, SDM Institute of Technology has been providing a brilliant platform for students in Ujire, Karnataka. "Our principle 'socio- economic development can only be achieved by educating the rural community' is the motivational force behind all the ventures initiated by SDM Educational Society," mentions Dr. K. Suresh, Principal, SDM Institute of Technology. Established in the year 2007 by distinguished visionary Padmavibhushan Dr. D. Veerendra Heggade, the institute runs under the aegis of Shri Kshethra Dharmasthala SDME Society, Ujire. SDMIT has obtained 95 percent result in the past years consecutively securing University ranks too. Displaying such a success record, the Principal proudly boasts saying, "Our institute has left no stone unturned to bring in the best of the opportunities to our students irrespective of its geographical location and so they have been performing so well."

With the ambition of integrating scientific training with value based education and to enable the all round development of the learners in the rural region. In comparison to technical institutes in urban areas, SDMIT has reflected the same amount of calibre by the desirable quotient of their students by industry. More than 87 percent of eligible candidates receive campus placements. "During the last batch, our students are placed in IBM, HP, Infosys, Tech Mahindra, Global Edge, Accord Software, Airtel, Hinduja group, TVS group, Robosoft and many more with an average package of Rs. 3.5 lakh per annum and highest package of Rs. 7.5 lakh per annum," mentions Dr. Suresh.

Enhancing these outcomes, the institute provides intensive pre-placement trainings and associated activities to students. These activities include basic training on soft skills, aptitude and professional technical skill sets and are monitored by fully pledged placement committee. Several MoUs are already in place with leading industries and institutes such as Wipro, Infosys, Bosch, Indwell, Selco, i-wave, BSNL, SIT, etc for these training, research and collaborative activities. For delivering content beyond the syllabus and for making students employable, students are exposed to trainings in industry supported centres of excellence (Bosch-Rexroth CoE, Wipro Mission 10X Technology Learning Center) and Industry supported programs (Infosys Campus Connect, Selco University Engagement Program, Prime Minister Koushalya Vikas Yojana, Suryamitra Skill Development program - community service initiative).

Gaining the confidence of guardian and wards over the past three decades, SDMIT has emphasized developing entrepreneurial skills among their students. A separate cell known as Innovation and Entrepreneurship Development Cell is established in the institute for promoting such activities. Entrepreneurial efforts of students are encouraged through in-house incubation centres. Programs are conducted in association with RUDSETI (Rural Development Scheme of Shri Kshethra Dharmasthala) for students in specific skills and motivate them to become entrepreneurs.

"We are always open to the challenges to equip and train the students and keep updating the curriculum with the changing needs," adds Dr. Suresh. With the conscious efforts of the institute, the management ensures to raise the overall performance of the institute to further heights and guide these students into better generations of qualified and skilled engineers.