Higher Education Review ›› Magazine ›› November-2017 issue
Holistic Development:Nehru Institute of Management Studies
Author : HER Team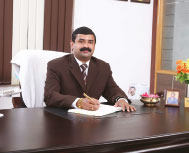 Dr. P. Krishnakumar, CEO & Secretary Nehru Institute of Management Studies
Moulding True Managerial Talents for the 21st Century

Situated in the beautiful city in Tamil Nadu State, Coimbatore, Nehru Institute of Management Studies NIMS) is the tenth establishment under the umbrella of Nehru College of Educational and Charitable Trust. The trust was the reality of ambitious dream of the founder chairman Late Shri P. K. Das, an eminent academician and a Philanthropist. NIMS is one of the most premier business schools founded in the year 2008 with the aim of developing capable professionals and fulfilling the educational need of the society.

[HER_QOUTE]

"Our mission is to provide quality education along with innovative practices which will instill relevant skills and elements in the learner," says Dr. P. Krishnakumar, CEO & Secretary, Nehru Group of Institutions. The teaching methodology that is followed by the institution is significantly a synthesis of theoretical and functional approach, enlightening the students from concrete to abstract.

Students are inspired to engage actively in seminars, workshops, and other field works conducted by the institution, that strengthen their basics and aid them to sew up hands-on training. The NIMS understands the accent of the continuous assessment system very precisely, and thus the students are evaluated throughout their course, not only based on their grades but also considering leadership, teamwork qualities and so on. Likewise, students are also asked to bring forward their requirements and prospects from the institution and the faculty members.