Higher Education Review ›› Magazine ›› December-2017 ›› Special issue
Holistic Education: Sir Padampat Singhania University
Author : HER Team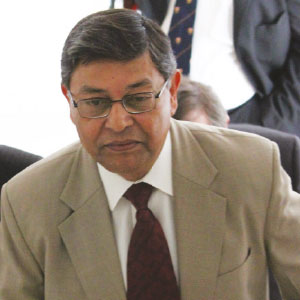 Ashok Ghosh, President Sir Padampat Singhania University
Based in the spellbinding land of Udaipur, which is popularly known as 'a magical marble mosaic', Sir Padampat Singhania University (SPSU) was commenced by the idealistic industrialist Late Sir Padampat Singhania, the founder of the JK Organization. Ranked as one of the leading universities of India in 2017 by MHRD, National Institute Ranking Framework (NIRF), SPSU is among the six private universities ranked in Rajasthan and the youngest institution to be so ranked. The University also bagged a place for itself amongst the top 100 universities in India of category "A" higher educational institutions in 2016 by NIRF.
SPSU annually welcomes students from all over the country, promoting cultural diversity in the campus.
"We have entrenched certain success parameters for ourselves, which we try to attain with the dedication of providing an education that combines rigorous academic study and the excitement of discovery with the support and intellectual stimulation of a diverse campus community," opines Ashok Ghosh, President, Sir Padampat Singhania University. Endowed with natural resources and beautiful landscape, the university campus is a treat for the students to stay in who get access to the avant-garde facilities.
Each building in the campus is planned according to Stanford University's space management plan for Higher education.
Scattered in more than 7.28 lakh square feet of constructed area, the campus is installed with well lit and ventilated classrooms, structured laboratories for each stream, including separate boys' and girls' hostels and spacious accommodation for staff and faculty. Giving downright emphasis on the security of the people residing within the campus, the management has hired one of the best private security services in the country. The students of SPSU also get the space to spend time in sports and recreational activities through two spacious playgrounds, more than twelve courts and an open gym.
Being a student-driven university, there are 22 clubs in the campus, ranging from literary, dramatics, sports and technical domains. "The clubs form an integral part of SPSU and are conceptualized by the students and supervised by a faculty mentor. These are an initiative by the students to emphasize on developing their personality and providing wings to their creativity," explains Ghosh.
Keeping Pace with Emerging Areas