Higher Education Review ›› Magazine ›› December-2016 ›› Special issue
Innovative Placment Practices: Siddaganga Institute of Technology
Author : HER Team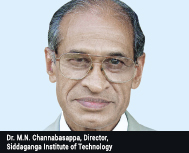 Engineering is a skill and it requires the right molding. Today, there are lakhs of engineers that graduate from thousands of colleges and are unemployed because they are just normal engineers, not good engineers. It's not about a degree but it's all about the interest towards learning and an educational institute is not just about bricks, mortar and concrete, but about building character, enriching minds and enriching experience that lasts longer. Siddaganga Institute of Technology popularly known as SIT is an institute that stepped to make a difference in the education field. Established in 1963, the institute is nurtured by Padmabhushana, Karnataka Ratna, his Holiness Dr. Sree Sree Sivakumara Swamiji, a centenarian.

As an institute with over 50 years of glorious existence and illustrious service, SIT is not a place that is offering just a series of instructions; rather it is a space working on the passion. Dr. Shivakumaraiah, Principal of SIT always feels proud to work with the team involving 336 qualified, experienced and devoted faculty members. The team takes utmost care in the knowledge imparted in students and thus takes inputs from subject experts working in the industry. "We take inputs from the industry experts regarding the industry requirements and we frame the curriculum accordingly. At times, the courses are also framed by the industry experts," adds Shivakumaraiah.

Considering research as an integral part of teaching, SIT is actively working on sponsored research projects with a total funding of Rs. 8 crores. "We are one among the four self financing institutions across the country selected by the MHRD under TEQIP for establishing a Centre of Excellence in Applied Research and Nanotechnology with a grant of Rs.5.00 crore. Very recently, Bharat Ratna Dr.C.N.R. Rao inaugurated the Centre of Excellence. The excellent research work carried out in the institute has resulted in good publications in conferences with high impact. Further, I am happy to report that the good research work carried out by the faculty and quality projects carried out by the students has enabled the institution to file 59 patents so far," proudly claims Shivakumaraiah.

This focused learning environment of SIT has bagged it with various awards and achievements. The SIT team considers all this to be the part of the game and continues working without diluting the real essence of quality technical education. The true essence of learning exhibited by the institute makes a good placement for the students. "Reputed industries including TCS, WIPRO, Quest Global, Tech Mahindra, MindTree, Accenture, Aricent, Informatica, Akamai, Bharat Electronics Ltd and others are visiting our institute for campus placements," says Shivakumaraiah. At SIT, about 80 percent of the eligible students are being placed through the campus placement. The institute has also signed MoUs with industries like ABBGISL and R&D organizations like GTRE, CABS, CAIR, CPRI and so on. Today, SIT considered as one among the ten best institutions in the state for imparting excellent technical education and for incorporating contemporary developments. With a unique teaching and learning process, SIT continues its journey with an aim to mould the inborn talents.