Higher Education Review ›› Magazine ›› December-2016 ›› Special issue
International Orientation: Lovely Professional University
Author : HER Team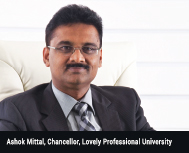 Hosting world leaders including Indian President, Vice Chancellor of Cambridge University, Prime Minister of the Commonwealth of Dominica, Nobel Laureate and many more, the convocations of Lovely Professional University have always been an enriching event for the audience. Since its first convocation ceremony in 2010, LPU has never broken this rich tradition. On the seventh convocation, which was conducted in two phases, the major attraction was the presence of Dr. Ameenah Gurib-Fakim, President of the Republic of Mauritius. She honored PhDs and toppers of various LPU academic programs and delivered Convocation Address. During this ceremony, 15000+ distance education students, who passed their June 2016 examinations, also received post-graduate, graduate degrees and diplomas.

LPU Convocation also turned out to be momentous for Mauritius and India when the Chief Guest, President of the Republic of Mauritius, Her Excellency Dr. Ameenah Gurib-Fakim was conferred upon honorary Doctor of Letters (Honoris Causa) degree of the University. Dr. Ameenah was conferred honorary doctorate for her ardent working towards advancement of science, technology and in recognition of her services for the society. On this occasion, Lovely Group Chairman, Ramesh Mittal, Vice Chairman, Naresh Mittal, LPU Chancellor, Ashok Mittal, Pro Chancellor, Rashmi Mittal, Vice Chancellor Dr. Ramesh Kanwar and Director General Er H R Singla shared the main dais.

Admitting to be an ardent fan of energy providing Punjabi culture, Dr. Ameenah began convocation address with 'Sat Sri Akal' and 'Mainu Punjab 'aa ke bahut khushi mehsoos ho rahi hai.' She said, "Punjab is the melting pot of incredible India and is undoubtedly a land of lions, where bravery and courage rule the hearts of men and women alike. Moreover, the economic opportunities in Punjab are endless." Advising students, she said, "Bring difference in the world through education received at LPU. As a scientist, I am enthused by LPU's emphasis on invention, creativity and development. LPU is a citadel of learning and has all ingredients of an excellent university. Carry on this legacy of excellence, which has been forwarded to you here. Knowledge can only be effective if it is applied and leads to innovation and development. Go on to deliver excellence in every field of your life. Make your parents, Punjab and Motherland proud of you."

Illustrative, world-renowned biodiversity scientist, Dr. Ameenah is the first ever woman to hold the title of the President of Mauritius. Mentioning India as the land of her ancestors, she shared that India and Mauritius has so many things in common be it traditions, values or culture. She also shared, "India will continue to play a key role in the global economy and as an economic powerhouse in the South Asian region." She also wanted a kind of education in India and Mauritius under which young and ignited minds of both the countries should not leave for other countries.

Ashok Mittal, Chancellor
Ashok Mittal, an exponent of industry relevant higher education, is humble and foresighted entrepreneur who has a strong vision to transform the way education is delivered in India. Under his steering, LPU is an epitome of "TRANSFORMING EDUCATION, TRANSFORMING INDIA". Born in Jalandhar on 10th of September 1964, he completed his Graduation and LLB from Guru Nanak Dev University Amritsar.