Higher Education Review ›› Magazine ›› May-2018 ›› Special issue
K V Institute of Management and Information Studies: Making Comprehensive Growth a Reality
Author : HER Team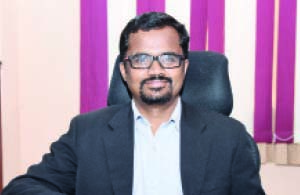 Management education is no longer about learning tangible and measurable skills. Today's Industry giants look for candidates who possess skill sets to master complex challenges and capitalize on emerging opportunities making them employable. Promising to train a bracket of holistically developed management leaders, K V Institute of Management and Information Studies (KVIM) came into existence in 2008 under the established shield of the KV Charitable Trust in Kurumbapalayam, Coimbatore.
Started with a noble vision of being a Centre of Excellence for the holistic development of Businesses, Entrepreneurship and Research in Management, KVIM is devoted to excellence in teaching, learning, and research, and to developing business leaders who make a difference globally. Located in a distraction free tranquil environment and greener surroundings, KVIM provides the students with a larger residential campus with more amenities using abundance of a space than a tightly-knit campus community. The convenience of living on campus of KVIM provides students easy access to numerous campus resources such as faculty and academic advisors, the library, computer labs, residence dining halls, sporting facilities, recreational facilities and so on.
Innovative Teaching Pedagogy
Upgraded with all the facilities at par with international standards, KVIM welcomes students to pursue their MBA (offering specializations in subjects like Marketing, Finance, HR, IT, Operations, Shipping and Logistics) and Ph.D. In order to upgrade the business acumen of practicing managers , KVIM also offers impactful Executive Education Programs in trending areas like Digital marketing, SAP, Retail/FMCG and other specialized need based training.
With more than 120 partnerships with national and international corporates, KVIM has built an optimistic relationship with its industry partners, which positively assist the students in their internship and placement prospects.
At KVIM, the teaching pedagogy is not just restricted to a narrow and constrained classroom setting, instead we set up ways to encourage real time conversations among the students through case studies and pre-video sessions. The approach to the pedagogy combines fieldwork, case studies and instrumented feedback with a strong emphasis on concepts and theory. In order to promote higher forms of thinking, such as analyzing and evaluating concepts, processes, procedures, and principles rather than just remembering facts, the teaching and evaluation practices are designed according to the latest learning taxonomies.
Industry Institute Interface