Higher Education Review ›› Magazine ›› March-2018 issue
KSR College of Education: Advocating Holistic Approach in Teacher Education
Author : HER Team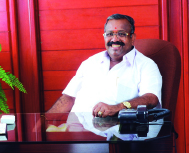 Teaching is considered as one of the noble professions, teaching is undoubtedly a tough job to perform. A teacher has the responsibility to shape impressionable minds and mould it into a vessel that defines perceptions and ambitions. However, not every institute is capable of producing such quality professionals with high ethical and moral values. Making a difference in this field is KSR College of Education, which is located in a sprawling lush vernal campus of 350 acres amidst the Namakkal district of Tamil Nadu. The institute is established under the shield of KSR Educational Institutions, one of the prominent educational bodies in the south India, providing a comprehensive educational experience right from schooling to higher degrees in Engineering and Technical Education, Dental, Arts and Science and Teacher Education. With 16 institutions in its galaxy, KSR Educational Institutions lights the lamp of wisdom with a vision of brightening the future of young generations.
"We believe in the wholesome development of our students. We are not just dedicated to disseminating education, we also care about their physical and mental well being," says Lion Dr. K.S. Rangasamy MJF, Chairman, KSR College of Education. The students of the KSR College of Education are encouraged to build character through sports and other physical and spiritual development activities like yoga. The students are also rendered ample opportunities to hone their talents in cultural fields like dance and music. The excellence demonstrated by the institute has bought numerous laurels, among which the most recent was to receive the National Educational Excellence Award 2017 at the World Education Convention 2017.
Infused with core values, the students of the KSR College of Education are the most demanding candidates in the teaching job market.
Step Ahead Towards Sound Career
Affiliated with Tamilnadu Teachers Education University and accredited by NAAC with 'B' Grade, KSR College of Education has earned a respectful name among the student community by setting a benchmark in teacher education since its inception. The students filling application for the institution are offered to pursue degree in B.Ed and M.Ed including certificate courses like Certificate in Guidance and Certificate in Computer Literacy Programme. The institute also conducts PG Diploma programme like PG Diploma in School Leadership and Management through Indira Gandhi National Open University, New Delhi.
Having 40 well-qualified and experienced faculty members, the institute is committed to the mission of training students with special coaching and give them individual care and attention so that there can be a free flow of knowledge. Lion Dr. K.S. Rangasamy MJF shares, "There is a belief that teacher should remain student throughout their lives and if they stop learning, they might not be considered as updated. Hence, we always motivate our faculty members to take up research work and attend diverse workshops and conferences."