Higher Education Review ›› Magazine ›› December-2017 ›› Special issue
Maya Academy of Advanced Cinematics: Creating Vibrant Community of Visual Artists
Author : HER Team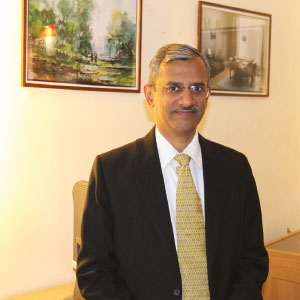 Ram Kumar Warrier, Director MAAC
India is a home to more than 500 animation studios, which have created blockbuster Hollywood movies like The Jungle book, Life of Pie, Shrek and many more. Working closely with the Hollywood Industry, the Animation Industry in India has predicted that it will generate more than Rs. 9,000 crores by 2020.

Now in a process to produce quality home-grown content, debutants in this industry face a cut-throat competition, as there are numerous animation academies churning out a surplus number of animators. Established in the year 2001, Maya Academy of Advanced Cinematics (MAAC) has been a premier institution in this sector, providing career-oriented courses to the people who come with a creative flair. "We emphasise more on the principles of animation before we start teaching them with advanced software. There are always new tools and software which arrive into the industry, but the principles remain intact," says Ram Kumar Warrier, Director, MAAC.

Certified by the International VFX and Animation Council, which is an association of VFX and Animation professionals, MAAC imparts training par with the International standards through its dedicated Research and Development (R&D) team. The R&D team is responsible to provide the students with experienced trainers who are able to meet-up with the ever-changing demands of the Industry. "Our trainers are going through the faculty development program (FDP) which updates them with the cutting-end technology," explains Warrier. In every FDP, industry experts play a vital role, as the R&D team invites them to demonstrate the advancement of software and tools, which in turn helps the students to push the boundaries of immersive entertainment and animation production to the next level.

The trainers ensure that their students are provided with extensive training in visual artwork so that they will gain hands-on experience in 2D and 3D Animation. "Our Students are trained to conceptualise their imaginary objects to life using animation techniques. We provide them with an opportunity to work with the most advanced equipments," claims Warrier. At MAAC, the students get to work on the high-end computers like Wacom tablets and other similar devices, in addition to the latest software used by the industry like Maya, Autodesk 3ds, Fusion, Mudbox, Adobe Audition and so on.

A Perfect Launch Pad for Creative Designers
Thos who wish to work in an industry Animation and Gaming need to understand the significance of creative communication and expressions before they start working on their portfolio. MAAC, a part of the Aptech Computer Education, provides their students with a complete demonstration of media principles in motion graphics. "But to enter into the industry, the students have to prove themselves where our Placements Cell plays a vital role," claims Warrier.