Higher Education Review ›› Magazine ›› December-2017 ›› Special issue
Mundo Latino: Extending the Latin Mores to India
Author : HER Team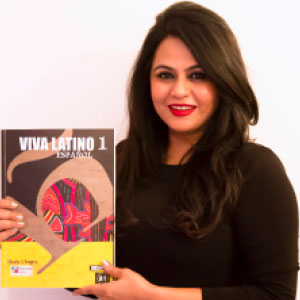 A twirl at the count of seven, fumbled steps and clicking heels is never an intact story of Salsa. Instead, the story has its base with the Latin culture. Keeping up the authenticity of the same, Sunil and Shalu Chopra, a couple based in Delhi, extend a chance to sway to the moves with the experienced professionals at Mundo Latino, a unique institute offering courses for Spanish and Salsa under the same roof. Mundo Latino is the brainchild of Shalu who has been actively working for the promotion of Latin American culture, Spanish language and Latin dances in India for almost a decade. Sunil, Co-Founder of Mundo Latino, says, "The word Mundo means 'World' and Latino means 'Latin', making it up as the 'Latin World'. So, our name says it all."

Affiliated with INPEFA (The Embassy of Peru), Mundo Latino works with the active support of 19 Latin consulates in India through their Ambassadors/senior Diplomats. Shalu, with 11 years and 10000 hours of Spanish teaching and training experience, has developed a new and specialized training methodology named SWIRRL, which implies Speaking, Writing, Interaction, Role Plays, Reading, and Listening in training Indian learners. "Our teaching methodology is very unique and it has been given Intellectual Property Right (IPR) by the Government of India for its uniqueness and its originality. We do not have a translation method nor we depend on other languages in our training; we teach everything in Spanish from the very first session onwards," explains Sunil.

From the day one of the class, every student is recommended to interact in Spanish language and with the frequent use of the same; every student gets an easy access to Spanish accent. Among the languages, Spanish is perhaps the most phonetic one and hence ML rightly conveys it with an effective strategy. "Without losing the essence of Spanish language, Shalu has developed 'Viva Latino Español 1' the textbook of learning which has also received an IPR," proudly claims Sunil. The book has been considered as the pioneering efforts of the 40 years of teaching and training of Spanish in the country. Several mentions in the book are related to the Indian terminologies, making it easy and fun for every Indian aspiring for Spanish language learning.

"We do not teach the language here as a subject, instead we build the language skill through visualization and cultural immersion, and are opening up the Latin American world forthe students so that they can experience it right here. Through the salsa, and the training on the other distinct cultural performances, we inculcate the skill of Hispanic culture in the Indian students," concludes Sunil. As the journey of Mundo Latino advances, Sunil and Shalu want to reach out to the nook and corner of the country, so that everyone can experience the rich cultural heritage of the Hispanic world.